RICE, SPICE, AND EVERYTHING NICE; PRESENTING THE SUBCONTINENT'S BIRYANI WITH A SIDE OF HISTORY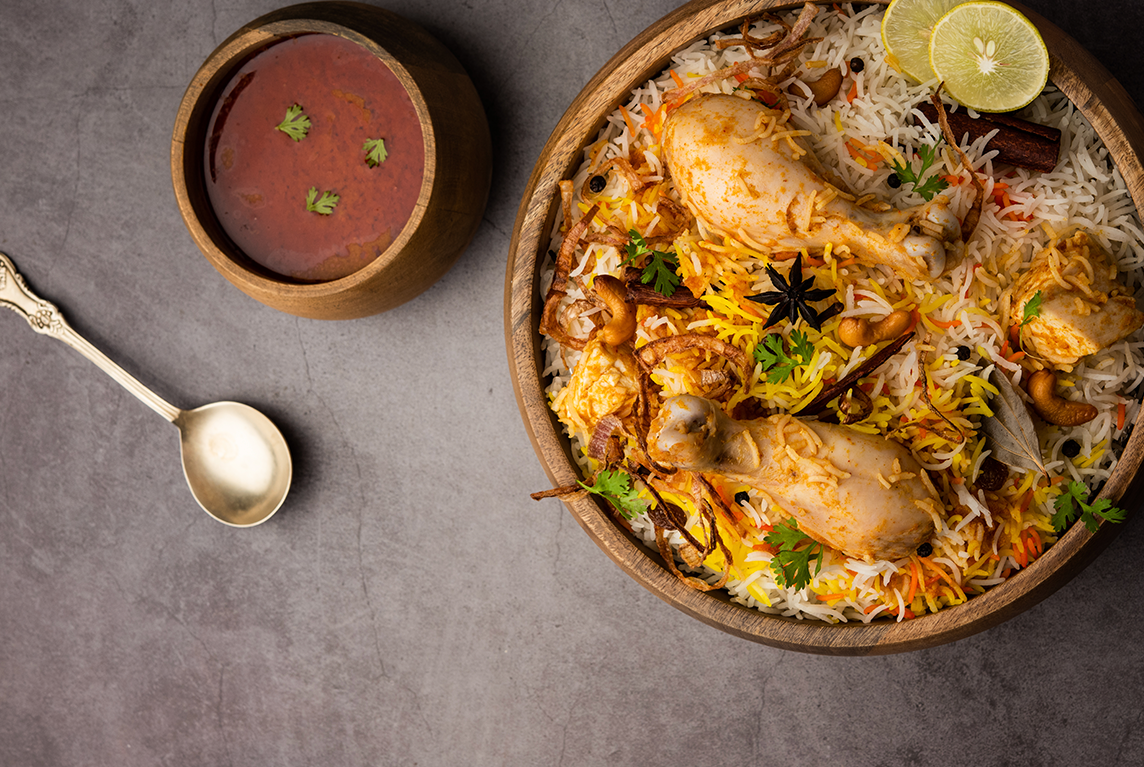 Dear Biryani,
I may not always stay in touch with you, but know that I'm thinking about you all the time.
The way you light up every room and fill it with your aromatic presence is one of my favourite things about you. Everyone who chances upon knowing you immediately fall in love with you, and for all right reasons. The warmth you exude and your flavourful personality are just some of the many reasons why everyone is so drawn towards you.
But for me? You hold a very special place in my heart. I can't recall a single special moment when you were not by my side; you were there beaming when my little sister came into this world. You were holding my hand tight, consolingly; when my grandpa passed away. You were also my plus one when my best friend got married.
I would not be lying if I say, you add spice to my life.
Yours sincerely.
P.S: Hope to meat you soon!
We are sure that it is not just one individual who holds these sentiments for one of the most popular rice dishes of the Subcontinent; the love for the delicious, fragrant dish we call ''Biryani'' encompasses all borders and cultures.
Where Did It Come From?
Many speculate that it originated from Persia, and then was brought to India by the Mughals, and was eventually embraced by the people so fondly that it became a crucial part of the entire culture.
It started off as a simple combination of rice and protein-rich meat, layered with multiple spices in an earthen pot, but it has gone through several variations since.
The word Biryani derives from the Persian word 'Birian', which translates into 'fried before cooking, and the impact of this dish all over the world, specially in Pakistan and India, is undeniable.
In the late 18th century, Hyderabadi 'kachchi' (raw) biryani gained immense popularity when the Mughal empire met a downfall in Delhi, while Hyderabad emerged as the center of South Asian culture.
This type of biryani is renowned for raw rice and meat cooked together in a pot with a myriad of spices and only a bit of water.
If you're someone who can't do without aloo (potato) in their favourite rice dish and is not very spice tolerant; Mumbai biryani might be exactly what you need. Originated from Mumbai, as its name suggests, this variant is a melting pot of flavours, thanks to the use of sweet and tangy plums along with kewra water; and is widely loved by both Indians and Pakistanis.
What's The Secret Behind Its Incomparable Taste?
As a wise person once said; biryani is a labour of love.
The onion frying, vegetable cutting, and sautéing the masala may take a while. Not to forget parboiling the rice, marinating the meat, and layering all the components methodically so each rice absorbs the max flavour, does seem like a laborious task.
But the Cheshire cat grins, the eager hand-rubbing and mouth-watering from one's family as the prepared dish reaches the table is well worth the effort.
While there are bevy of variations of biryani, each unique in spices, flavourings, and method; the basics remain the same. Firstly, a masala (mixture of spices) is prepared and one's choice of meat is marinated in it for over two hours. The authentic Lucknowi biryani recipe also involves preparing a chicken curry on low heat so both the meat and spices are browned and cooked.
Next, the par-boiled rice is drained before the prepared curry is layered over it and the remaining rice spread on top. It is then left for dum (slow cooking in steam) and mixed before serving.
If you're looking for a wicked "Dum Biryani" in Jersey City, Laree Adda is your place to be!
Order yourself a dum chicken biryani here.
All You Need Is Love Biryani:
Not only is the famed rice dish readily available in every nook and corner of India and Pakistan, but it's also quite affordable without any compromise on the quality of its authentic spices.
Many restaurants and street-corner stalls are dedicated to specializing and perfecting their own unique recipes of this marvelous dish — the rice gets its rich flavour from a variety of spices, like garlic, ginger, and cardamom, as well as from the meat itself, and above all, the saffron.
If any portion is compromised to cut costs, the biryani loses its signature taste.
In the bustling metropolis of Karachi alone, it's impossible to not find a place that sells this dish without throngs of people waiting in lines to devour it the very moment it comes out in all its glory out of a steaming degh.
One of the most popular places that specializes in various types of biryani is in the form of a humble shop in Gulshan e Iqbal called Premier Biryani, which has been around for 15 years and sells biryani with any or as many variations as you can dream of but their hot sellers are chicken and beef.
A full plate of hot spicy biryani, complete with fragrant rice coloured orange-yellow and a hearty chicken leg spice-rubbed gently for a mottled look, ranging anywhere between PKR 100 – 400, is a welcome indulgence after a full day at work or during a short break from it.
If you dig deep into the pile of rice, and are lucky enough, you might even come across a soft potato to complement the flavour.
Paired with a refreshing dose of raita (minted yogurt); a side dish of yogurt mixed with herbs and vegetables and the combination with the hot spicy rice is absolutely unbeaten.
"Biryani is enjoyed on any and all joyous occasions," a Karachite shared, "Whether it be weddings, a child's birth, any kind of celebration is incomplete without a good serving of biryani."
Interestingly, the dish is so intricately woven in the lives of desis that any unfortunate occasion is also deemed incomplete until it's graced by biryani's presence. Be it a funeral or a family gathering to dissolve a marriage, biryani is surely the highlight of the day.
It would be almost negligent to not mention the famous biryani of Shadab from Hyderabad, India – Offering one of the most genuine tastes and recipes to date. The secret is the raw meat that's layered at the bottom and the partially cooked rice on top. Once the lid is placed, a hot charcoal is put on it and the pot is sealed all around with dough and that's when the magic happens.
That's also where it gets its famous name Dum biryani.
This ensures that while the meat is cooked, it does not absorb all the spices and so the rice is able to retain most of the spices and the intense flavours.
Every place selling this dish has a different style, a different method to cook, an original twist of their own, a recipe that has been successful for years and has cemented their taste — that's the beauty of this vibrant food, you can make it your own in the smallest but significant of ways.
Situated in the heart of Karachi, Kharadar, has a store with one of the oldest family recipes that has boosted them as a locally famous stop for all biryani fanatics — Al Rehman Biryani.
Amidst the hustle and bustle, Al Rehman Biryani's staff works vigorously to provide a consistent signature taste to the hungry Karachiites.
When asked about what makes their biryani dish stand out amongst others, the brother of the owner responded, "We've been in the business for 18 years now and the best thing we do is put love into our food. Once you fall in love, you'll always have that love reciprocated."
And there indeed is a lot of love when it comes to this dish, for as popular as biryani is in the Subcontinent and a few select Islamic countries, outside of it, it is yet to reach that same height of popularity that it has in India and Pakistan but it has internationally piqued everyone's interest.
People from different generations may have their differences and separate values but one thing that unites them is biryani. While brown millenials and Gen Z have opted for memes to honour the Mughalai dish —'it's better to love biryani because at least it won't say ghar walay nahi maanenge' (my family would not agree to this relationship) and 'we don't need antidepressants because a plate of warm mutton biryani with almost melting aloo does the job for me', other generations treat their biryani recipes as one of the most prized possessions.
With its mysterious origins and constant evolution with different variations that have been influenced by different cultures and countries, Biryani remains one of the best dishes in the world.
Where Can We Find The Best Biryani Outside The Home?
The curious food aficionado in you is tickled, isn't it?
Since biryani is yet to receive the same love beyond the border, it's increasingly hard to find places that offer the same authentic flavours for an instant trip back home.
If there's one place that holds biryani in the same reverence as home, it's Laree Adda; a New Jersey based, desi food stop that promises uncompromising quality and a passion for South Asian cuisine that is almost unrivaled abroad.
They make them in a variety of proteins, so there's something for everyone to try. What are you still waiting for? Book yourself a table to grab a piping hot, delectable biryani plate with the same maa ke haathka zaiqa now!