FROM PESHAWAR WITH LOVE: UNPACKING THE SECRETS OF PAKISTAN'S PALATABLE BBQ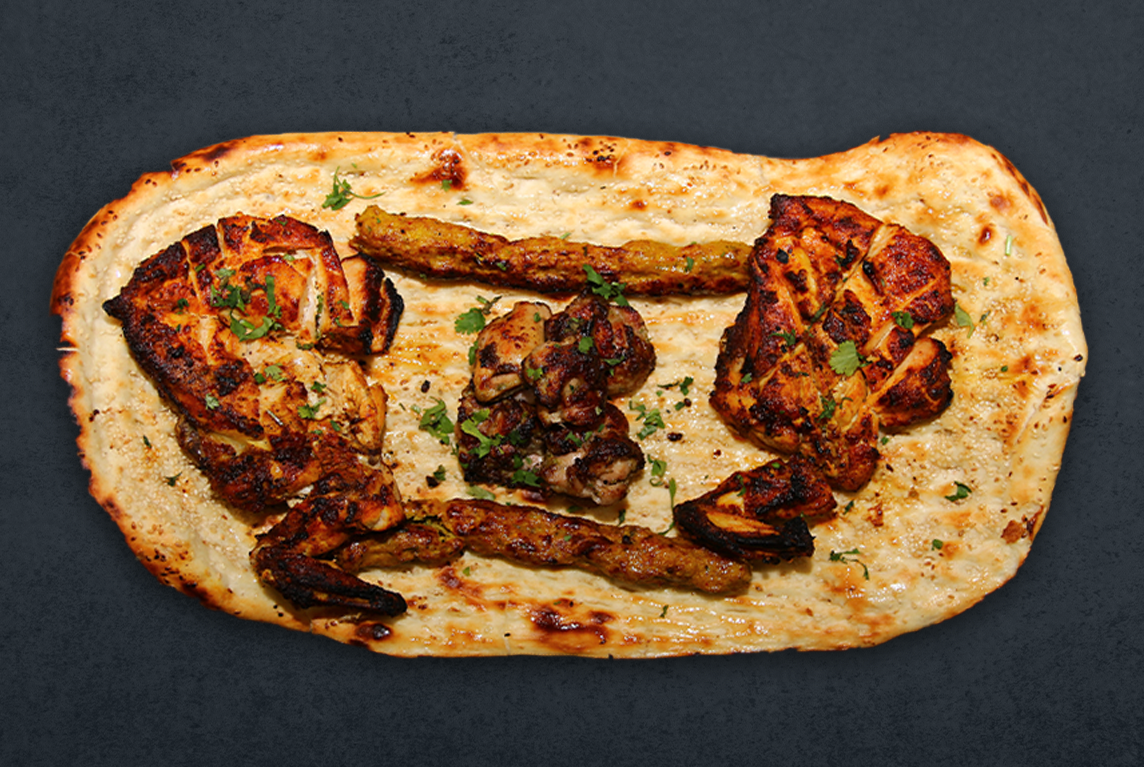 With throngs of people in every corner, the streets of Peshawar are often luminous with light bulbs; the air is alive with loud chatter while the tempting aroma of barbecued meat in the air pulls a hungry traveler this way or that.
The capital of Khyber Pakhtunkhwa is one of the oldest cities in Asia that lures thousands of tourists and food connoisseurs towards its rich culture, especially out in the open alleyways and streets.
A food enthusiast can find almost anything to their heart's desire in this bustling metropolis but the city's claim to fame is its unforgettable barbeque, complete with its smoky flavour and succulent meat.
Barbecuing in this part of the country is not just a custom; it is probably the best method for cooking. There's no oil for additional fat, no substantial breading or singing to overload meat. Cooked with minimal spices and often in its own juices, Afghani bbq packs a punch in the very first bite.
So what really constitutes Peshawari cuisine?
Peshawar derives its name from a Sanskrit word meaning the City of Men. As its name suggests, the area was trodden by diverse groups; initially, it belonged to the Gandhara and eastern Iranian tribes, saw Greek dominance for a while followed by an Arab conquest after which Islam came to rise in the region.
The culture the city boasts of today is a mix of customs left behind all of them.
Today, the cuisine of the Pashtun people, who enjoy going by "Alexanders" the great, falls under Afghan and Pakistani cuisine. It consists primarily of meat-heavy dishes cooked specially in lamb and rice with some vegetables. More diet staples include dairy products like yogurt and cheese and some homegrown fruits and veggies along with nuts.
Famous for its use of minimal spices, local delicacies here sometimes only use salt to taste to hold the original flavour of the meat.
What to feast on when in Peshawar?
It's a commonly-known fact that some of the best food being prepared can be found on the streets and when it comes to one's love for the food of Peshawar, every weary traveler must make a pitstop for dum pukht — if the culinary adventure is to be remembered, that is.
Afghani dum pukht is a traditional, slow-cooked mutton recipe that is bound to please any meat-lovers taste buds. Made with only a handful of ingredients (goat meat, goat fat, black pepper, lemon juice, and some fresh veggies), this fuss-free, juicy dish is low on spices but high on taste quotient.
If the spice lover in you is not satiated, one might allow the smoke from barbeque grills to lead them to some of the best tikkas found around the globe.
Marinated and then meticulously grilled out in the open for 25 to sometimes 40 minutes prepped by cooks that've been in the business for good 15 years, the spice-rubbed, beautifully mottled tikkas are worth the long wait—we at Laree Adda swear by it and we do them just as nice!
The constant fanning of the skewered meats by multitasking but capable hands, is enough to make anyone waver and stop by for a taste of Afghani boti, seemingly small in size but big on flavours.
The botiis are smeared with myriads of spices and charcoal-cooked for a smoky kick. The only downside? Making them is a real test of patience and they vanish in a jiffy!
Another Afghani diet staple is a delectable meal of fatty chapli kebab served with garma garam naan and cool, podina chutney. Packed with the flavour of anardana and tomatoes, the thin layer of fat that clings to the roof of month after first bite is a certain sign that there is no better kebab than the authentic Peshawari chapli.
The word kebab is said to originate from the Arabic language and while they were a prominent part of the Mughal's everyday menu, the modern day chapli kebab is purely a Pakhtun take on the dish.
In fact, seekh, bihari, galavati are all kebab-family gems that are not to be missed. Barbecued meats are after all a big part of Pakistani cuisine, and on the streets, it is readily available at astonishingly reasonable prices!
If you're on the lookout for these mighty meats abroad, NJ-based Laree Adda is a highly-recommended stop with a taste as close to home as it gets.
Some must-visit bbq spots in Peshawar:
There is plenty to discover and love about this ancient city, and it's hard to not hear about the Namak Mandi (The Salt Market) once you're there — the name originating from the fact that it was once a busy center for salt trade in the region. People from close-by countries would travel here and barter for the salt with various everyday objects. Over time, this business declined but the name remained. And this area is now populated with restaurants and street vendors, particularly dominated by meat dishes.
Mandi's is famously regarded for its varieties of karahi and meat-heavy dishes, especially the tikkas.
A lot of people who visit Peshawar, are sure to try Nisar Charsi Tikka, an inevitable landmark of the old city it's located in.
The spot is famous throughout the country of Pakistan and rightfully so, where the owner Nisar, runs a tight ship and keeps a watchful eye on his staff, to ensure the quality and taste of the food. The meat is weighed and cut and carried off to a karahi station or the barbeque grills where it's sampled by people and tourists from all over the country.
This man has been such an inspiration to the bbq-lovers of the country that his popular items, Charsi tikka and a variety of karahis, are now staples on any roadside Laree Adda menu a hungry traveler chances by.
When in Peshawar, its top quality food street at Ghanta Ghar should be a topper on everyone's list. The place's swelling with delectable aroma of every imaginable food one expects to find in the city and makes for an indigenous food hub.
What's the secret behind Peshawar's unforgettable taste?
Afghani cuisine has enthralled its tasters since forever. What could be the secret behind this undying loyalty though?
Well, the answer is simple; it's the method that has been tried for years and family recipes that have been passed down to generations, who follow the instructions like the rule of thumb to replicate their forefather's taste to perfection.
Big on bbq but don't know where to find the most authentic kind?
If the desi in you is tickled and currently salivating thinking about all the steaming, succulent meat you could've been gorging on right now (can't blame you!), drop by at Laree Adda in Jersey City, NJ to make it happen.
From rich Shikari lamb chops to just-off-the-grill seekh kebabs and malai boti tikkas, each item at this contemporary authentic Indian and Pakistani cuisine place will take you on a quick trip down a Peshawari lane, packed with juicy bbq and juicier gossip.
Laree Adda is where nostalgia meets taste and we're sure you want a bite of it. Check out our full menu here.