THE FINEST HALAL FOOD CATERERS IN NEW JERSEY; BRINGING YOU THE BEST CUISINES FROM THE SUB-CONTINENT.
LET THE CATERING REQUESTS BEGIN!
Offering the very tasteful & extensive Indian-Pakistani cuisines; Laree Adda ensures the use of only fresh & quality ingredients, bringing authentic tastes & appetizing visual appeal. Everything that we offer from appetizers & meals to the vast range of delicious desserts is halal. It is all prepared with authenticity, precision, care, & the love for food.
Let us cater for your next family occasion, office retreat, or even daily lunches at your workplace; and experience the taste of excellence.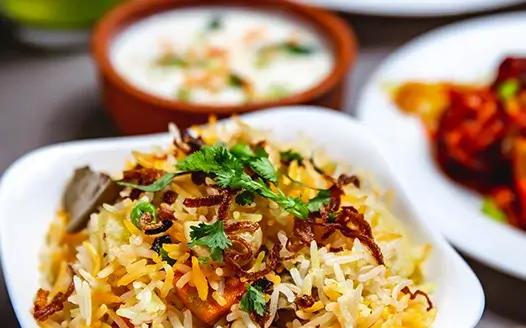 $24 Per Person
1. Chicken Tikka Boti or Chicken Seekh Kebab
2. Any Curry (Meat or Vegetable)
3. Biryani or Pulao
4. Vegetable Samosa
5. Naan Bread or Tandoori Roti
6. Raita
7. Sweet (Kheer)
$28 Per Person
1. Vegetable Appetizer (Samosa or Pakora or Chat)
2. Non Veg Appetizer (Chicken Shami Kebab or Chicken Chapli Kebab)
3. Mix Grill (Chicken Tikka Boti / Chicken Seekh Kebab / Chicken Malai Boti)
4. Any 2 Curries(Meat or Vegetable)
5. Biryani or Pulao
6. Naan Bread or Tandoori Roti
7. Sweet (Kheer)
8. Raita