Setting Tandoors on Fire: The Love & Need for Naan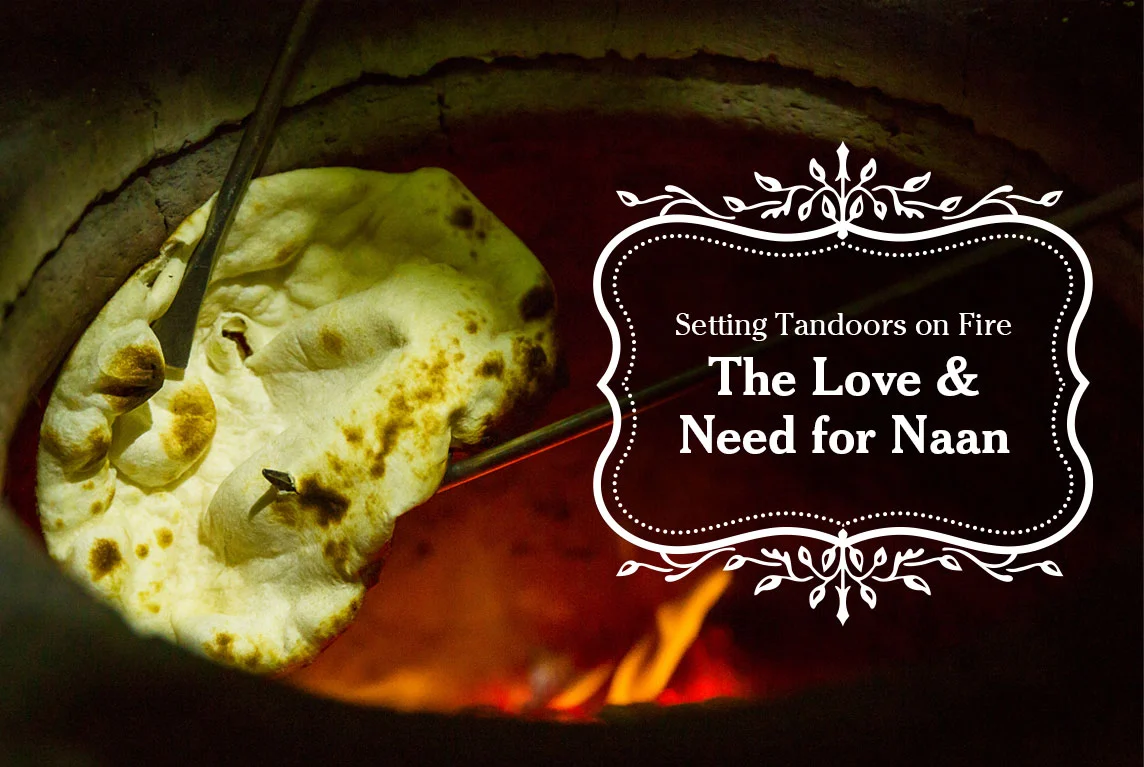 Dear Naan, 
I hope you are being good with the ovens and tandoors as they are tired from your mood swings but poor things had to keep up with you. Well! I see clear reasons for you being so moody, I mean you are the star in the world of subcontinental cuisine and tbh I am your biggest fan. Your existence in my meal makes my bites more worth it. Please stay in my life forever and be good to us by bringing more variety to you. 
From Subcontinent
A true lover of Naan. 
Naan- A Historic Piece of Art 
Who would've imagined that raw flour could be turned into one of the most popular foods in the history of the subcontinent; just with the addition of water and salt – sounds like magic doesn't it?  You got us! Yes, we are talking about Naan – The perfect companion of curries, every person's need, a full meal with desi ghee poured on it, and the heart of sub-continental cuisines. 
When we explored more about Naans, we discovered that this delicious and tasteful flatbread is not only enjoyed in India and Pakistan, in fact, its majestic existence has reached other south Asian countries too; like Afghanistan, Bangladesh, Iran, Azerbaijan, Turkey, and several others. And it is not only confined to South Asians; flatbreads are liked in other countries like the USA, Canada, and the UK. 
Naan, with its wide range of variety, has spoiled us all; so now we choose to have the type of naan we like according to the food we're having. The combination of mouth-watering Daal Tarka and Garlic Naan from Laree Adda will make you fall in love with the softness of the Naan dripping in Daal Tarka and the tempting feeling of flavors, Oh! I'm sure the hunger is creeping up our stomachs now.
The love for Naan is nothing new – it's been loved and consumed for centuries, in all different parts of the world. The history of Naan started with the Subcontinent in India and now it has spread its roots universally. 
Etymology of Naan
The word "addictive" seems ideal for Naan when it comes to Indians and Pakistanis – And the biggest reason for their addiction is that the origin of naan belongs to India from 1300 AD. According to the etymology of Naan, the first recorded history of naan was seen in a notebook of an Indo-Persian poet Amir Kushrau. The invention of Naan took place 2500 years ago when yeast arrived in India from Egypt. The cooks at that time added yeast to the flatbread dough experimentally but the experiment hit the skies and a unique and delicious invention took place in the form of Naan. 
The royalty of naan is very evident, as at the time of Mughals in 1526, the emperors loved to have Naan with Keema or Kabab in their breakfast, so yes, dear Naan we understand your cranky but always tasteful moods.
There should be a celebration in the western world, when the head of the food state, "Naan" was introduced to them. Thanks to the English historian Willam Tooke, who mentioned Naan in the Encyclopedia of Russia and initiated the roots of Naan among the Britians in 1799.
Naan and its Countless Variety
There is a reason why naan is called the head of the food state as it never disappointed any of its lovers and always remained constant when it came to spreading culture, mouthful appetite, and flavourful taste. Here are some yummy scrummy varieties of naans.
Tandoor originated in the Muslim region of South Asia and traveled to the middle-east. Likewise, 'bhatti' was an Indian tribe that made 'bhatti like tandoors' and from there it got its name. These both are the parents of Naan! Well the tandoori naan is the most common and popular type of Naan that suits with different curries, gravies, and with the special palak paneer from Laree Adda, oh what a feeling of heaven. 
Roghni naan, another tasty birth in the family of naan that makes our food more luscious. This mughlai flatbread is so soft and moist as it is kneaded with milk yogurt, and the poppy seeds in it enhances the flavor of it. Bring a new taste to your food today and order some heavenly roghnis with our delicious butter chicken. Trust us – you won't regret it at all. 
If you are in love with garlic then this garlic naan is a taste of happiness and bliss like you have reached the seventh heaven. The tandoor Chef at Laree Adda finely chops the garlic and as it hits the taste of desi butter, the moisture of it reaches the depth of naan and gives an irresistible taste. As we are foodies, we suggest you have grilled chicken tikka boti with garlic naan and Laree Adda is the best place in New Jersey where you can grab them. 
Experimental Naans of New Era
Naan was an experiment and today it is the most popular food in the world. The basic form of naan was then explored into many unique styles and variations with different flavors. 
Laree Adda has a team of skilled and experienced chefs who introduce dishes that they have already experimented with, just to make you foodies happy and stuffed.
Keema Naan is an exceptionally tasty addition to the world of naans, which Laree Adda introduced for their foodie family. As the minced chicken marinated in fine herbs and spices is stuffed in between the soft, scrumptious naan with the topping of desi ghee makes it more magnificent in the world of naan.