Monsoon: A Season of Taste & Traditions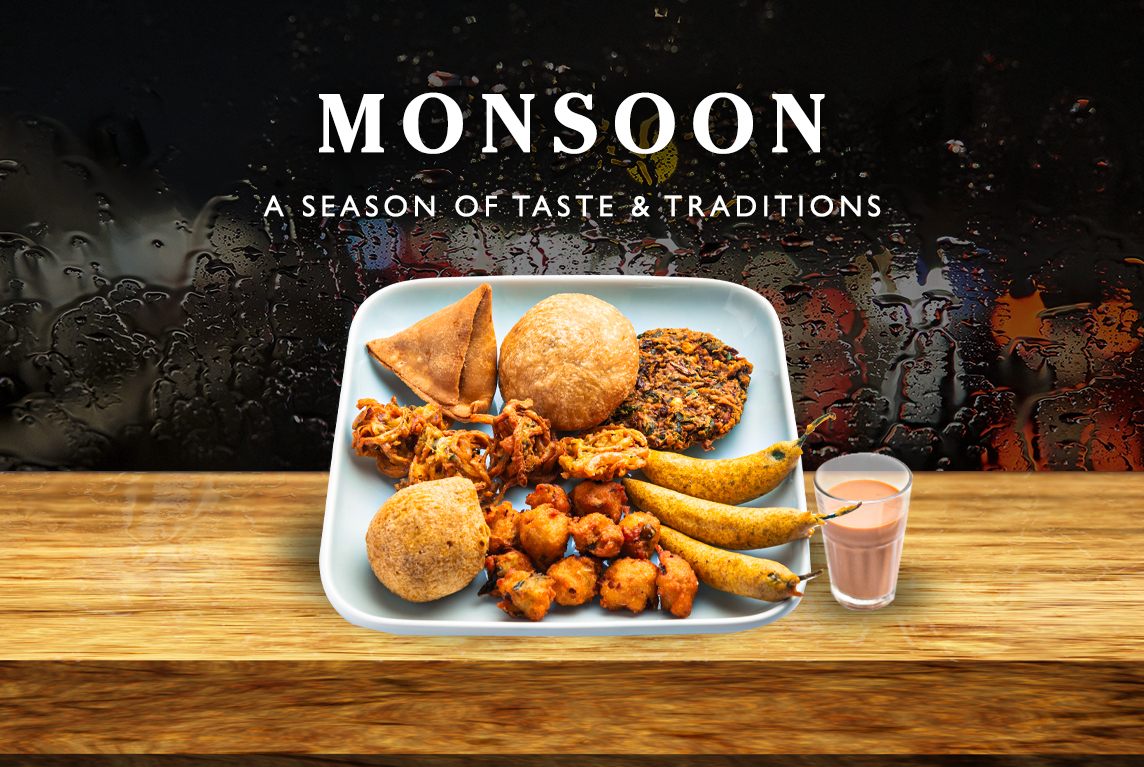 Monsoon is a season that brings with it several different feelings. The bright shades of green mesmerize our eyes, and the purifying smell of soil that emerges as the raindrops hit the ground – A feeling of fresh air that freshens up our soul, the vibe of love and romance that we catch when we are with our partners; and among these feelings, the most important one is the need for delicious and flavorful food!
Monsoon & Desi Food – A Wild Combo
History of the subcontinent is not only rich in terms of wars, victories, and the vast empires we've had, in fact, food plays a very significant role in our history. Our culture is so much into food that it has even influenced our traditions. 
If we talk about monsoon, it can easily be named as 'season of foods and traditions. In India, when the monsoon arrives and every corner is filled with joy, people invite their loved ones to savor desi monsoon foods and it is a part of their tradition. Oh, the love for desi snacks can be seen in every household as if they needed a reason to snack on samosas and pakorra. 
Monsoon brings a cool and relaxing environment while relieving us of the tense aurora after a long summer, and we just can't control our desi cravings for Chatpata Khana when we're this happy. 
I know you must be thinking of several mouth-watering desi snacks right now. So keep calm because we are introducing you to some of the best desi foods to stabilize your desi cravings in the monsoon.
Samosa, A Grace for Monsoon
Samosa! Don't worry, now you're allowed to drool. Samosa is one of the most popular desi snacks that fulfills everyone's cravings in the lovely monsoon season. It has a hot crunchy crust, with an overcrowded hot and spicy potato filling, and yes! I mean overcrowded because we can never have enough of it.
Samosa is a delicacy of monsoon as when the monsoon arrives, sellers can be seen everywhere in Pakistan, as well as India with their carts filled with these monsoon snacks that we cannot resist.
Do you know who's taking care of 'our desi cravings' in New Jersey?
Your very own, home away from home – Laree Adda!
Laree Adda is here to satisfy your desires and prepare the most delicious samosas in New Jersey – So without a second thought walk into Laree Adda and experience a nostalgic monsoon all over again.
Flavourful Tale of Samosa Chaat
The love of samosas is seen everywhere in the south-Asians, especially among Indians and Pakistanis. Clocking back to a time when poor parents needed to start some business for their only child and he thought that why not invest in desi foods but in a unique way? They took some warm crunchy samosaa and crushed it gently because being harsh with samosa is out of the rules guys, and then he added some Tamarind chutney and mint chutney with a touch of sweet yogurt. And wow! What an amazing job they did, discovering such a divine combination of chutneys and samosas. And since then, samosa chaat was added to the list of monsoon desi snacks.
This serving at Laree Adda has a taste that is truly rich, sweet, and savory – It gets even better in every monsoon, with rain and the fresh smell of happy plants.
Shami Kabab- A Monsoon Ritual of Desi Moms
We recognize Shami Kababs and its recipes just because of our mothers who have been cooking and serving them centuries ago. Shami Kabab is a true feeling of love and affection as it belongs to our mothers and the monsoon makes it more loveable when eaten with our favorite people. Tea time in monsoon seems incomplete without Shami kabab and now it is part of Monsoon food tradition. 
A mixture of lentils and spices when mixed with chicken and when it is gently split, that hypnotic view of shredded chicken and lentils coated with egg, Ah! What a mouth-watering description. But don't fill your stomach with descriptions and satisfy your desi cravings with succulent Shami Kababs from Laree Adda with Karak chai and fly back to the times when our mothers used to serve us in the monsoon season.