Chutney & Subcontinental Cuisines: A Historic Relationship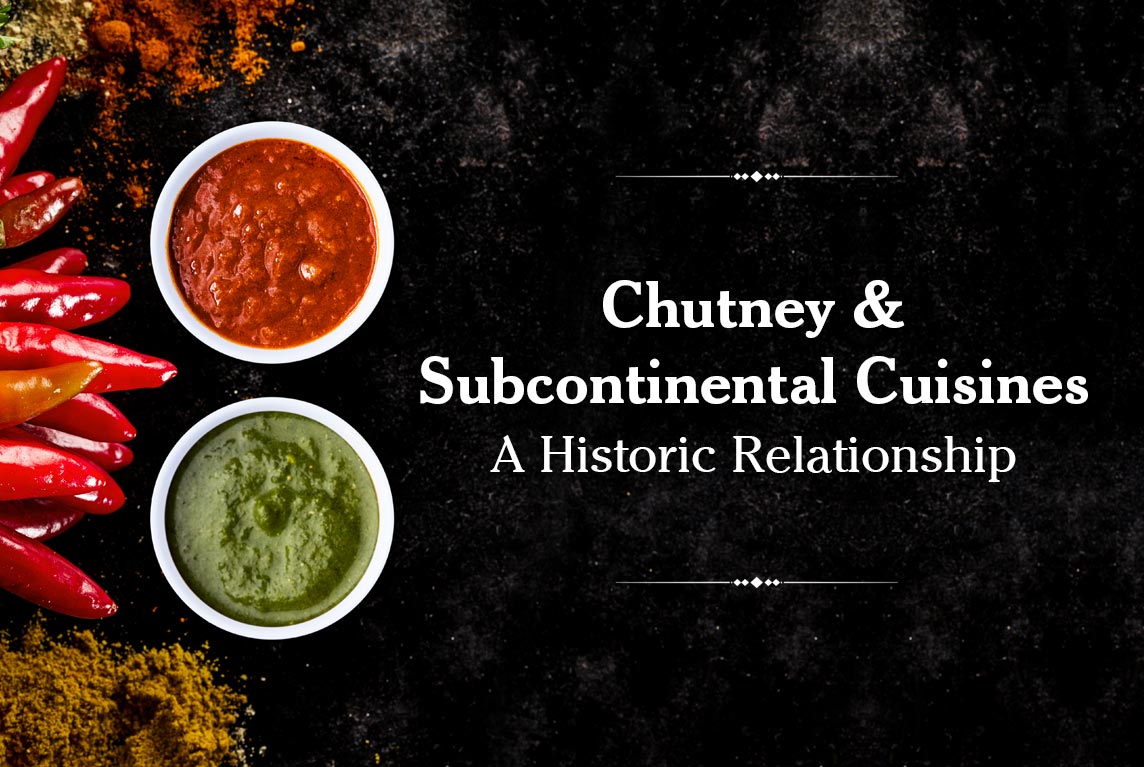 How would it be to have food with additional flavors? Flavors that your taste buds just cannot resist. Keeping this additional love for taste in mind, a flavorful side food was invented, and from that day the world of food became more honorable. Yes! We are talking about chutney and its innumerable flavors. Chutneys give new life to food, and especially in sub-continental cuisines, food almost seems incomplete without them. A colorful and seasonal theme of flavors with taste and deliciousness is found in chutneys when they are mixed with our favorite foods. 

Origin of Chutney

When we say chutney, what comes to mind at first? – The sound of smacking lips when we eat something very tasty, right? Chutney means exactly the same, as it comes from the word "chatni", which means to 'lick'.
Chutney has been a part of the Indian subcontinent for two millennia, as it was liked a lot by the Mughal emperors of the time, and their servants used to serve different flavors of chutney every day. Chutney was not only the emperor's favorite, in fact, but it was also present in every household of that time and the tradition continues to date. 
Back in the 18th century, the tradition of chutney moved to Britain. People from Great Britain and other countries believed that chutney was a British invention and there was a mythical character named Major Grey who was fond of different curries, and for that, he came up with this chutney to have along. The concept of chutney is also found in America, Australia, South Africa, and the Caribbean Islands. 
Chutney itself originated in India and from there the tradition of having food with different flavors of chutney has been a must. Not only in India but in many other parts of the world. The taste of chutney varies depending on the region and the likeness of flavors there. For instance, in Pakistan and India, the flavor of chutney tends to be spicy, sour, and full of seasonings. Whereas in England it has to be mild and sweet. In simple words, chutney is a vibe that matches everywhere. 
Types of Chutney

The true taste, flavors, and aroma of each and every spice is found in the south Asian areas – Pakistanis and Indians know exactly how to use them in their foods. No human can deny the fact that the variety of foods that are found in Indian and Pakistani dishes are different from any country in the world because they have a rich history of food that is absolutely remarkable. The love of chutney in South Asians is something we can not explain until you watch them eating it like a whole dish with roti, rice, and anything you can imagine. Some popular chutneys are: 
No doubt in it that we all will find tomatoes at our home as our chefs and Moms can not think of cooking food without them. "Tomatoes" you got us and we got you! And what if these tomatoes turn into a tempting flavorsome chutney mashed with some garlic, chilis, dates, salts, and of course how can a south Asian forget Zeera in their foods? These ingredients bring out an amazing Tomato Chutney that is loved by the Pakistani and Indian "desiis". Imagine "Tomato Chutney with the Garlic Naan from Laree Adda" mouthwatering, isn't it? 
Imli (tamarind) has an old relationship with South Asian cuisine. Whether it's Indian, Pakistani, or Bangladeshi, these people will not leave Imli at any cost. Be it in the form of candy, with soups, or in the chana chaat, Ilmi is playing the role in every dish. Ilmi chutney is cherished by everyone as its sweet and tangy taste when blended with a touch of species makes it heavenly delicious just like the Imli chutney from Laree Adda, you can not stop your fingers from licking it off. 
The mint chutney carries an interesting story. At the time of Mughal rule, the emperor Shah Jahan fell ill and it was suggested by his hakims that he should eat something spicy with full of flavors but it should be digestible. It was the time when chaat was invented in India and all the spices and flavors were mixed with a variety of chutney which and mint chutney was the core ingredient. The mixture of mint and coriander with other ingredients serves a thrilling taste and will take you above the skies but don't forget to take your meal with you.
The Chutney Obsessed Sub-Continent

Chutney is not only a part of food in the subcontinent, it is also their tradition to add chutney with every food. Be it an event or a daily routine dinner, or even if you are dining with your family in a restaurant like Laree Adda, you will find chutneys everywhere desiis are.
People apart from south Asians, mostly think that is why we "desiis" are so obsessed with chutneys. Come on ladies and gentlemen! We see no food without chutney. Coconut chutney, mango chutney, mint chutney, imli chutney, plum chutney, and many more uncountable flavors. The diversity in it makes it crystal clear about the Obsession of Chutney in the Sub-Continent. You must be looking for these flavors in New Jersey and the best place for adoring these flavors is Laree Adda, the best spot to have an ambiance of the sub-continent.