Desserts and Desiis:
The Truest Love Story of All Time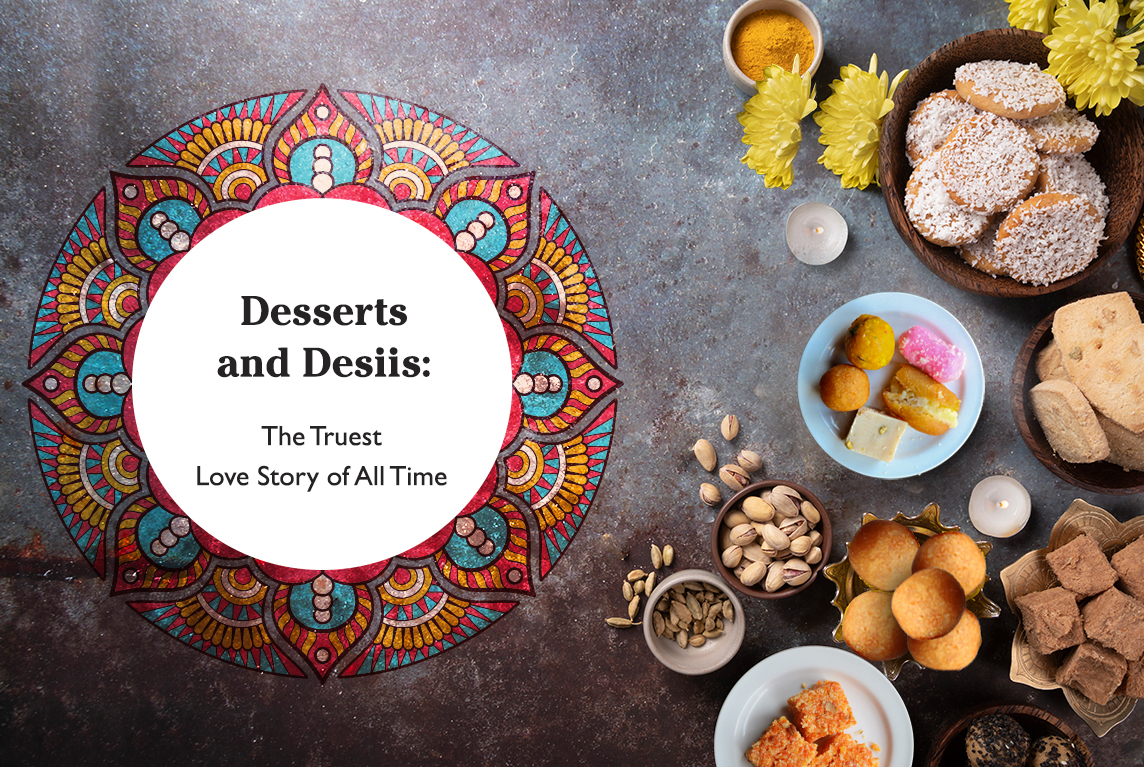 There is no region in the world that has such a culturally rich value, and is so invested in the love for desserts, than the subcontinental desiis. There is one common gene that is found in every individual of the subcontinent, which is the love for desi desserts. After any event, a gathering or family function, there is a popular saying that surfaces in every household – "Kuch meetha ho jaye?"; this initiates the pure joy of having desserts way before the sweet dish enters the room.
We all can relate to the excitement of Godly sweet desserts right after our meals. Wondering how every single person is so fond of sweets and desserts post meals, we looked and discovered that history of cuisines always included desserts and sweets; which were typically served after having a full meal – from there, the traditional habits started to develop for dessert lovers to always crave desserts after meals.
The Love for Desi Desserts
In 500 BC, when people of the subcontinent started making raw and refined sugar, the history of desserts changed from that point, and from then many Rajas and Maharajas found their meals incomplete without a sweet dish as a cherry on top. Not only do the 'Mahal Residents' have desserts with the meals, but all households relished the heavenly-tasting sweet dishes.
The people of the subcontinent, especially Pakistanis and Indians are globally known for their cuisines and taste. The delicacies of the subcontinent are full of lip-smacking, mouth-watering, and visually appealing foods and desi desserts.
As our culture is versatile and fascinating, be it the history of our culture, the foods or the 'Meetha', everything that relates to the subcontinent has an engaging and fascinating history linked to it. People of Pakistan and India are so much into food that you will find eateries in every city and in every street. You will not see any single person who does not like desserts and if you find any, please bring them to us at Laree Adda and we will serve them with delicious desserts with extraordinary tastes.
Name a Festival and Some Dessert Follows
Be it Eid or Diwali, Ramadan or Rakhsha Bandhan, or any festival happening in desi families; the most important thing that needs to be on the table are "mithai and desi desserts". Regardless of the occasion being celebrated, it can be a wedding ceremony or a birthday party, an engagement shenanigan, or the birth of your first child, every occasion always calls for sweets and desserts. 
Our festivals have been celebrated for thousands of years, these desi sweets and desserts are so indulged in our traditions and festivals that if any guest comes over without "mithai" or any sweet, it is considered to be out of the rules and is taken as disrespect. 
Dessert Family of Laree Adda
Laree Adda never disappoints us to serve the exact taste our tongue needs to have. It feels like we have an inner soul who only calls us for food and if we do not answer their call, then oh God!
Well, Laree Adda offers some exceptional varieties of desserts for their desi customers. 
You need to visit us and check them out!
The Royal Kheer of Laree Adda
The synonym to the word "Kheer " is always 'Royalty'. We have a big reason for calling Kheer royalty and that is because this delightful dessert is made using milk that is cooked until it turns golden, and then the addition of rice makes it thicker, but what makes it tastier is the use of fresh "khoya", which gives the Kheer a rich indulging taste. Imagine you ordered kheer and it is presented in front of you with chopped almonds and pistachios, with a creamy milky look! Oh heaven, this only happens in Laree Adda which you all should try. 
Gajar Halwa- Winters Hero 
As we mentioned traditions and occasions where desserts and sweets are searched accordingly, likewise, Gajar Halwa is a tradition and is part of our culture which is repeated in every household, especially in winters. Gajar halwa is a gift from winter to people like us who die for sweets and desserts. 
How the mixture of carrots, milk, and sugar with tons of dry fruit can turn to be a sweet dish that feels like it is made in paradise? 
Diversities of Mithai 
If you are an Asian and specifically belong to India or Pakistan, then it will take all day to name the mithai we have in our food culture. There are a number of Mithai made up of different unique flavors and tastes. The mithai which is loved by the desires is "Gulab Jamun ", you will see the craze not in the eyes but in the mouths of desires when they eat hot tendered Gulab Jamun anywhere everywhere. Not only Gulab Jamun but there are a number of mithai like rasgulla, barfi, ladoo, etc which come in desi desserts. 
Laree Adda has this extraordinary, tasteful mithai that we cannot resist without eating them.
Rasmalai – Exotic Festive Sweet
If you wanna eat a rich cheesecake in a desi style, then you should definitely go for Rasmalai. The flattened balls in it are made up of pure cottage cheese, which is specially made for the rasmalai lover who comes to Laree Adda to savor it. Do you know the reason why Ras is added in rasmalai? Because the Ras which is made up of evaporated milk with a touch of cardamom in it will drive you through each and every ingredient till you finish it.