The Majestic Meat Curries Served at Laree Adda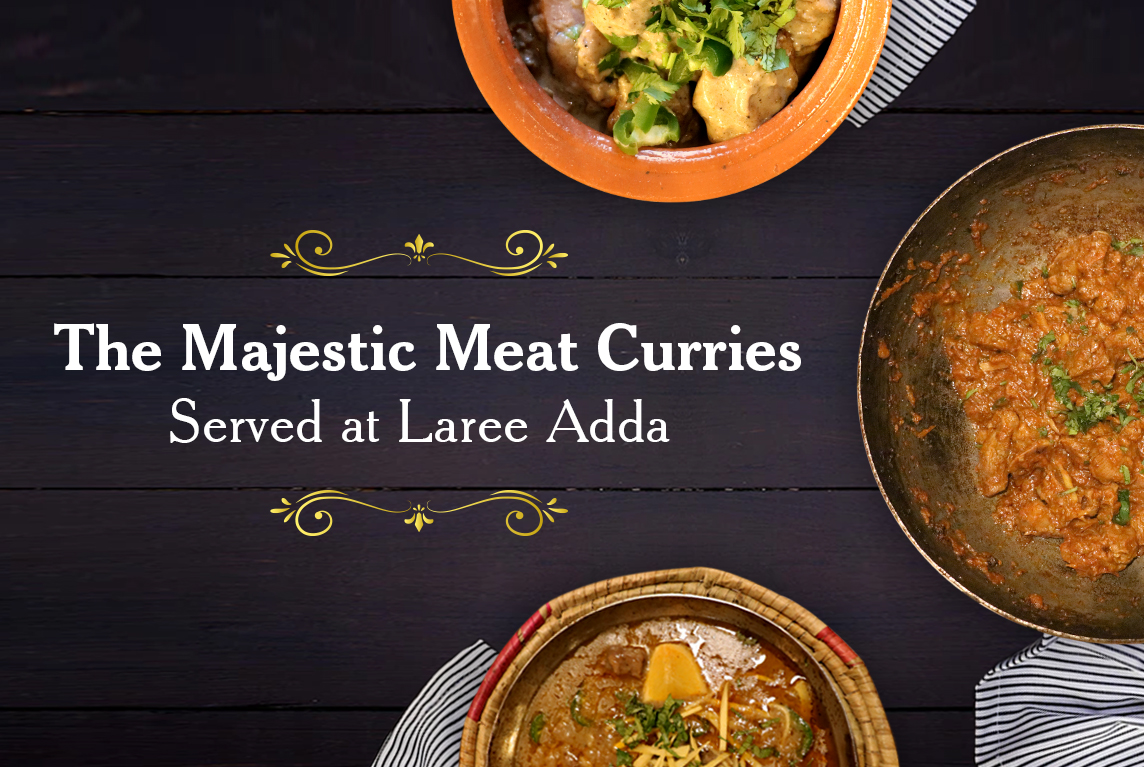 Desi Meat Curries – The Emperor of Sub Continental Cuisine 
Meat Curries! – Known as the undisputed king in the world of subcontinental foods, has a rich history that is not only limited to the subcontinent but has also embedded its taste all over the world.
When talking about meat curries, there is one specific moment in the history of subcontinental food that stands out the most and is considered a moment of pride for all desi food lovers and chefs in particular.
Back in the 1700s, one fine morning Queen Victoria entered her balcony to enjoy the fresh morning breeze and the chirping songs of birds. As she was self-soothing, a servant entered her room and informed her about a guest who had arrived all the way from India and had a special gift to offer. She was amazed by the gift, who was an ordinary Indian man claiming to be a special subcontinental curry chef and wanted a chance to introduce one of his meat curry specialties to the Queen. On being permitted to proceed, the chef cooked a curry that blew the Queen's mind, and the mimicking of that desi curry was an explosion all across Great Britain – This is how the first Indian restaurant made its way on the street of Britain. 
A mesmerizing tale of the emperor of sub-continental cuisine – Curry. 
Innumerable Styles of Meat Curries
Meat curries induce a sense of extraordinary taste and aroma, are the first love of all desi foodies, a signature dish of every household's mother, and the crowned king of the sub-continental cuisines. Over the centuries, meat curries have evolved from just food to being developed into an anticipated emotion that tickles our taste buds and takes us on the journey of exceptionally unique tastes.
This desi dish is full of rich flavors and can be prepared in countless ways, and each style will introduce you to different flavors of spices, offering a new feel every time that we can never get enough of.
Laree Adda and its Majestic Meat Curries
When living away from home, the one thing you miss the most is the taste of your favorite food made by your mother or your favorite spot, and the feel of that desi touch is always missed. 
Laree Adda is the perfect spot where you can taste every desi flavor as two colorful nations, India and Pakistan combine and give an authentic nostalgic feel of culture and cuisines. Chefs at Laree Adda have many specialties, but the meat curries they serve to offer that royal, majestic taste that makes our menu different from others.
Some of the special meat curries served at Laree Adda are:
Chicken Tikka Masala
Chicken Tikka Masala is the most famous dish of the subcontinent that not only rules the empire of curries in the desi households but has also captured the hearts of many foreign citizens as well. Chicken chunks are marinated into yogurt full of spices and then roasted to have that toasted yet juicy taste. The addition of masala made up of tomatoes, paprika and coriander mingling with rich cream give an outstanding taste of a desi curry. 
This description suits the chicken tikka masala served at Laree Adda because no one can beat the taste of the remarkable 'Chicken Tikka Masala' of Laree Adda.
Phajjay Ke Paye
Paye is an extremely typical traditional dish that falls under the list of 'special desi curries' of the subcontinent. Paye is not only a tasty desi curry, but it is one of the healthiest dishes claimed by our ancestors. What makes paye so delicious is the main ingredient called trotters or hoofs of a goat, cow, or sheep. It is a time-consuming food but as long as you wait for enough it will pay off by giving you the taste of savory juices coming out of the trotters and the sprinkle of garam masala makes it more heavenly. Laree Adda is all set to take you to the heavens as they assure you the same desi taste you crave by serving their 'Phajjay ke Paye'.
Lala ki Nihari 
Just the name "Nihari" drives a craze among desi people and no doubt, Nihari offers an exceptional taste that no one can resist. In Lucknow and Delhi, nihari is also called 'Hikmat', a herbal medicine used to cure high temperatures because of the meat and ingredients used in it. Laree Adda's Lala ki Nihari has that special feel, making you feel warm and cozy as this thick meat curry is cooked with perfection and the right touch of all spices. 
Mutton Korma 
When it comes to mutton, it defines the taste of any food just by its addition. Mutton is already rich with extremely flavorful juices, which when cooked add an extraordinary taste to the food. The combination of mutton with fried onions mashed in yogurt and the use of aromatic herbs and spices brings out the shiny brownish color leaving a mouth-watering taste. 
Mutton Korma from Laree Adda will fulfill your desire for desi curry but do not forget to eat it with the tandoori naan of Laree Adda.