– Karahi – An Insight Into Your Favorite Dish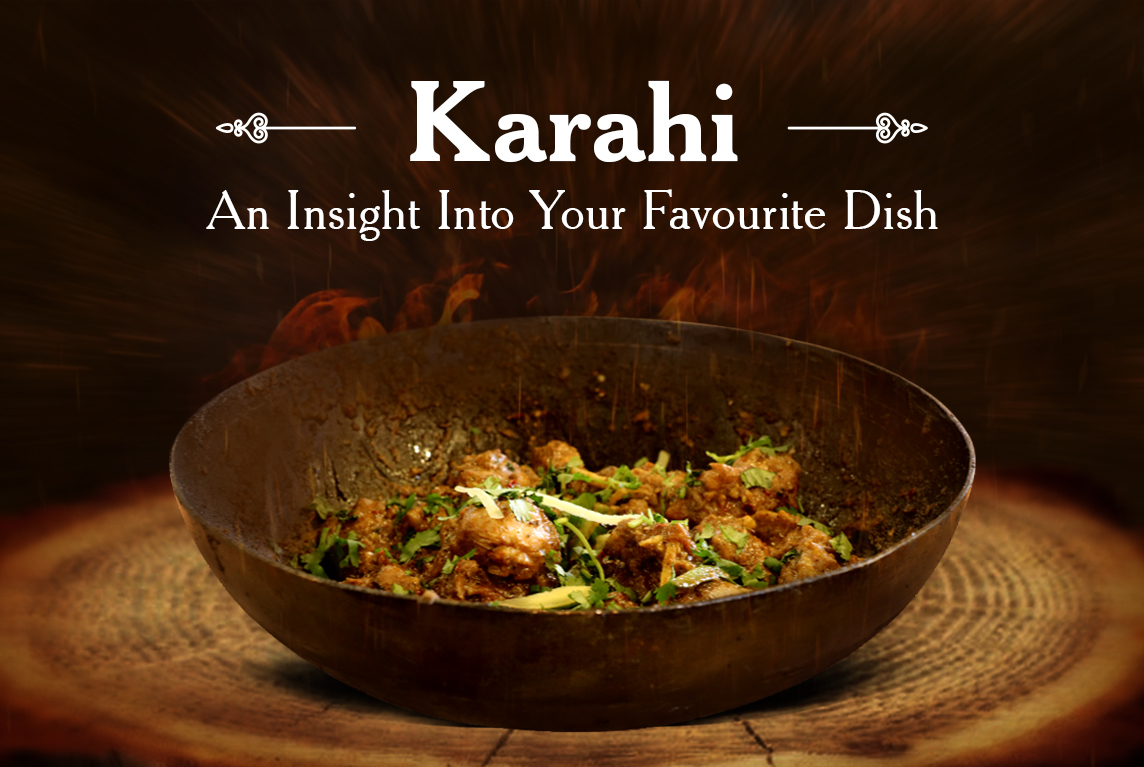 A smoke of taste arose, coming out of a thick deep cooking pot loaded with meat, tomatoes, and detectable spices, and then an eye-catching act was spotted as an afghani man was moving the pot on the bed of fire. A smacking sensation of that food was sensed in the mouth and there was no choice but to order that delicious dish known as "Karahi". 
'From the journal of an Anonymous food lover'.
The Anciency of Karahi
Who would have wondered that our favorite dish karahi is an almost 5 millennium-old dish, and people have been cooking this dish since the time of the Indus valley civilization? And the truth is that Karahi is the oldest dish and is one of the most demanded dishes in many countries like Pakistan, India, Afghanistan, and Bangladesh till now.
Moving to Pakhtun town, thousands of years back, when the Afghani tribes were part of that town. These people occupied their spaces and chose their leaders who were also known as their supervisors.
Imagine back in the time when these people used to live in mountains and uncivilized areas but still cooked and invented a dish like "Karahi", so delicious, so tasty with a mouth-watering feel. We all are wondering how on earth can someone cook such a succulent dish 5 thousand years back and is still known for its flavors and pleasurable taste.
We all have heard the name of Afridi Karahi, Sulemani Karahi, and Shinwari Karahi but did you ever give it a thought that who are these people on which we are savoring our Karahies?
Let us enlighten you today with this useful piece of information, after all, it is about our most preferred desi dish Karahi.
These are the names of Afghani tribe leaders from Khyber Pakhtunkhwa when these people used to lead their tribes. It is also said that the three of them shared a bond of brotherhood and used to invite each other to their celebration, festivals, and dinners. Karahi used to be the main dish of any event but the difference was the taste of karahis as each tribe used different Karahi masala while cooking.
In simple words, Karahi is a dish of heaven for all desi food lovers as we cannot resist without eating this meaty and juicy dish seasoned with coriander, cumin, red chili powder, cilantro, and black pepper with loads of tomatoes because tomatoes will entertain your taste buds when mixed with these aromatic spices.
The obsessive types of Karahi
The Afridis, Suleimanis, and Shinwaris have gifted us such an incredible dish that we thank them from all our hearts. Whereas Shinwari Karahi is made with simple few spices and tomatoes but still tastes delicious. On the other hand, Sulemani Karahi seems to be plain, cooked in lamb's fat with a little pinch of herbs and salt, and Voila! You can still feel the taste.
These Karahi styles are still added to our desi cuisine and you will find Karahi in every restaurant, in every Dhaba but now our chefs have added more deliciousness to Karahi recipes and made it more tempting for us. Some of the famous Karachies are:
Chicken Karahi
Chicken karahi is the most prominent dish in the family of Karahi. It is mostly liked by the people of Pakistan and North India but their karahi recipe differs from each other. In Pakistan, karahi chefs saute chicken with tomatoes, cumin, red chilies, and lots of black pepper because black pepper is a must for Pakistanis and the way they serve it with ginger and green chilies, gives a mesmerizing look. Besides, Indians add onions and yogurt to their karahi recipe to enhance the taste of chicken karahi. Recipes aside, we all that you are interested in eating karahi no matter which style or recipe so why don't you try the "Charsi Chicken Karahi " of Laree Adda to feel that desi Afghani tribal taste?
Mutton Karahi
Mutton! A lump of meat from paradise, came into our lives to make it more worth it and amusing. Envision mutton fried in oil to give it a roasted touch but when the tomato paste slides into the pot and that sizzling noise captures everyone's attention as the juice of mutton and tomatoes mixed with aromatized herbs and spices makes it more flavorsome, spicy, and juicy. We all know the craze for mutton karahi, especially in Pakistan and to relish that taste Laree Adda presents you the "Maula Jutt Mutton Karahi" and we promise you will love it.
Namak Mandi Karahi from Laree Adda
Because we have talented desi chefs in every area of our desi countries, they never disappoint us by bringing new karahi recipes to our food diaries. Namak Mandi Karahi is one of them as in Laree Adda it is specially cooked by an Afghani Chef who claims to be from the Sulemani tribe of Afghanistan. It has a very minimal taste of tomatoes because this karahi is cooked in Peshawari style with only salt and a few spices, but it has an exceptional taste and you will find this karahi only in Laree Adda. So bring your families and savor the Namak Mandi Karahi from Laree Adda.