The Magic Of Mughlai Mutton Qorma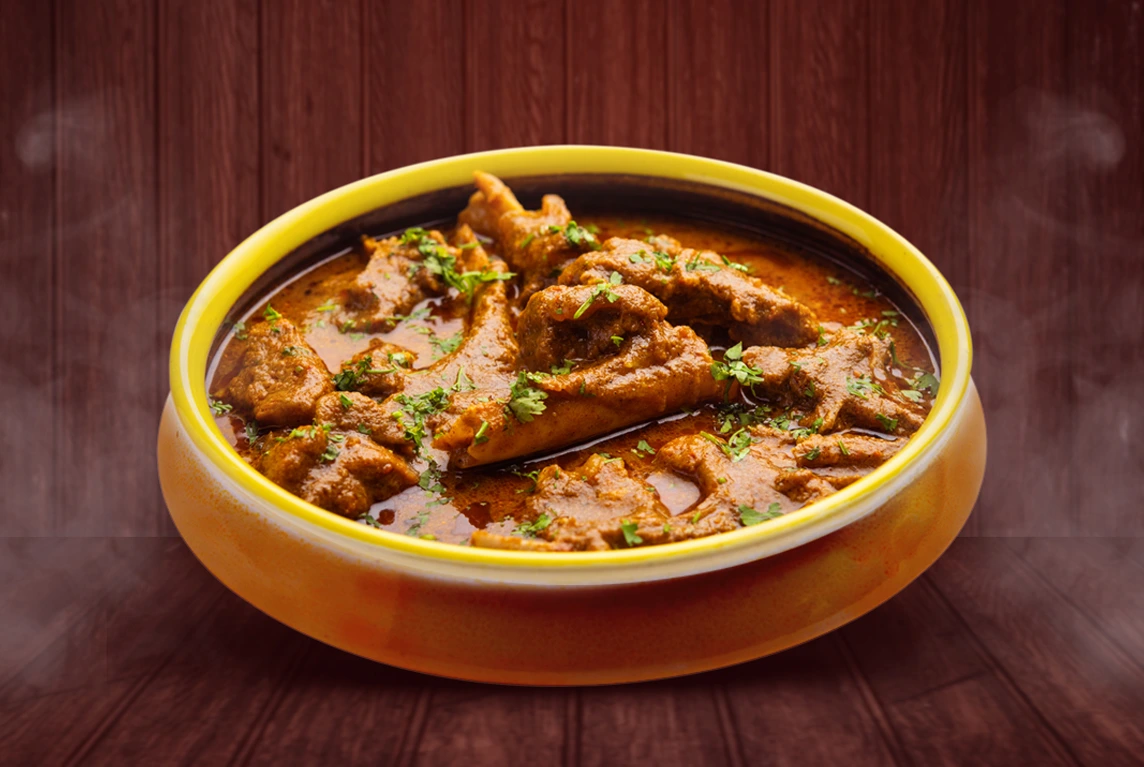 The unanimously crowned king of Indian curries without a doubt is "Mutton Qorma" – The Turkic word "Qavirma," which was borrowed into Persian, Arabic, and Urdu to describe a frying technique, is the source word that derived the name of this Indian cuisine's royalty "Qorma."
Turkish cuisine includes a dish called Qavurma, fried, and braised meat. It should not be mistaken for Qorma, a dish similar to it that is popular in Azerbaijani cooking and frequently contains dry fruits, sour grape juice (verjuice), and occasionally vegetables. In contrast, Qovurma is a dry meaty meal that incorporates minced meat or preserved meat chunks. It is typically served with pilaf (pulao) or yogurt.
Qorma comes in a variety of forms. Lamb stew with herbs, also known as sabzi qorma is a fusion of Persian and Turkic cuisine – while a nur qorma contains lamb and pomegranate, turşu qorma blends lamb with preserved lemons and apricots and is spiced with turmeric.
The mild stew known as Qorma most likely originated from the Persian dish known as Koresh. Mughal Indian Qorma ingredients included cream, yogurt, crushed almonds, saffron, and flavorful spices.
It is stated that the Indian cooks could serve the Mughal court only if they could make a good Qorma. According to English culinary writer Pat Chapman, "If he could cook a dozen versions, he would be the king of the kitchen and serve at the emperor's table."
However, some contend that the Qorma, also known as Askhorma, Qorma, Kurma, and Kavurma, has roots its in central Asia. The history of Qorma is The Mughlai version of the dish, that was developed in the 16th century due to Rajput cooks' experiments in the royal kitchens of Akbar the Great, under the directions of Mir Bakawal, the head cook and one of the court navratnas (Akbar's nine gems).
Nonetheless, there are a variety of Qorma recipes out there. In the Mughal setting, the earliest mention of Qorma that I am aware of comes from aristocratic cookbooks created during Shah Alam's reign, notes food historian Neha Vermani. The Indian Qorma may have evolved from the Qaliya and Do Pyaza over time in Mughal kitchens.
Magical Recipe of Mutton Qorma
Heat the oil enough, since onions should be fried until they are golden brown, then drained and set aside.
Fry full garam masala and green cardamom in the same oil for a few minutes before adding the meat of your choice.
Fry the meat over high heat while adding yogurt, fried onions, ginger, garlic, and powdered masalas.
For the next 10 to 15 minutes, continuously stir-fry the meat. Let the water get heated to the verge of boiling, add the meat, and let it cook for a few minutes before reducing the heat to medium.
Add bay leaves and kewra water, then allow to simmer. The meat will turn soft, and the oil will separate once the curry thickens. For chicken Qorma, the recipe will be followed in the same way – Now it's time to serve this magical dish!
Optional: After the Qorma is appropriately cooked, you can choose to garnish it with fried almonds or even stir in blanched almonds for at least 15 minutes before turning off the heat under it.
Explore The New Recipes of Qorma
It is thought that Qorma was created in the Mughal era. This Shahi dish flavor is based on a blend of spices, including coriander and cumin, along with yogurt that is carefully mixed with the meat juices and held at a temperature below the point at which it starts to curdle. To diversify the flavors of the spices, it is cooked gently over a low flame for a longer period. The ideal way to enjoy it is with Indian breads such as Tandoori Roti, Khamiri Roti, and Roomali Roti.
Qorma can be prepared using several different recipes – Also there are several different types of Qorma that you can give a try.
QORMA-E-VAQIL 
Mutton Qorma is a dish that can only be appreciated with its distinctive fat floating on top! Tender beef cooked in a blend of onions after adding yogurt and spices. In Uttar Pradesh, mutton qorma is a classic dish.
BHOPALI GOSHT QORMA  
This Bhopali Gosht Korma is an excellent Nawabi recipe from Bhopal. Rich, spicily spiced sauce seasoned with whole spices is poured over chunks of mutton.
MARCHWANGAN QORMA  
This fiery stew is a hit at a dinner party thanks to the khada masalas, ghee, and luscious meat. Don't trust it? Just give it a shot.
TALEY KELE KA QORMA  
The addition of fried bananas twists this classic Qorma gravy. You heard us right; the ideal Taley Kele ka Korma is made with potato cubes, chopped spinach, apples, and bananas.
MURGH SHAHI QORMA  
You will undoubtedly fall in love with a creamy chicken curry with a distinct nut flavor. Your preferred rotis can be served with this royal entrée, this is also called Pakistani Qorma.
Larre Adda being New Jersey's hub of desi food, and home to the most realistic as well as nostalgic desi experience for all desis living away from home; serves the most delicious Mutton Qorma that you have ever tasted.
Drop by during your lunch hours, or book a table for the long-due family dinner, and experience the taste of desi cuisines like never before!