EVERYTHING'S JUST MUCH BETTER
WITH FRENCH FRIES!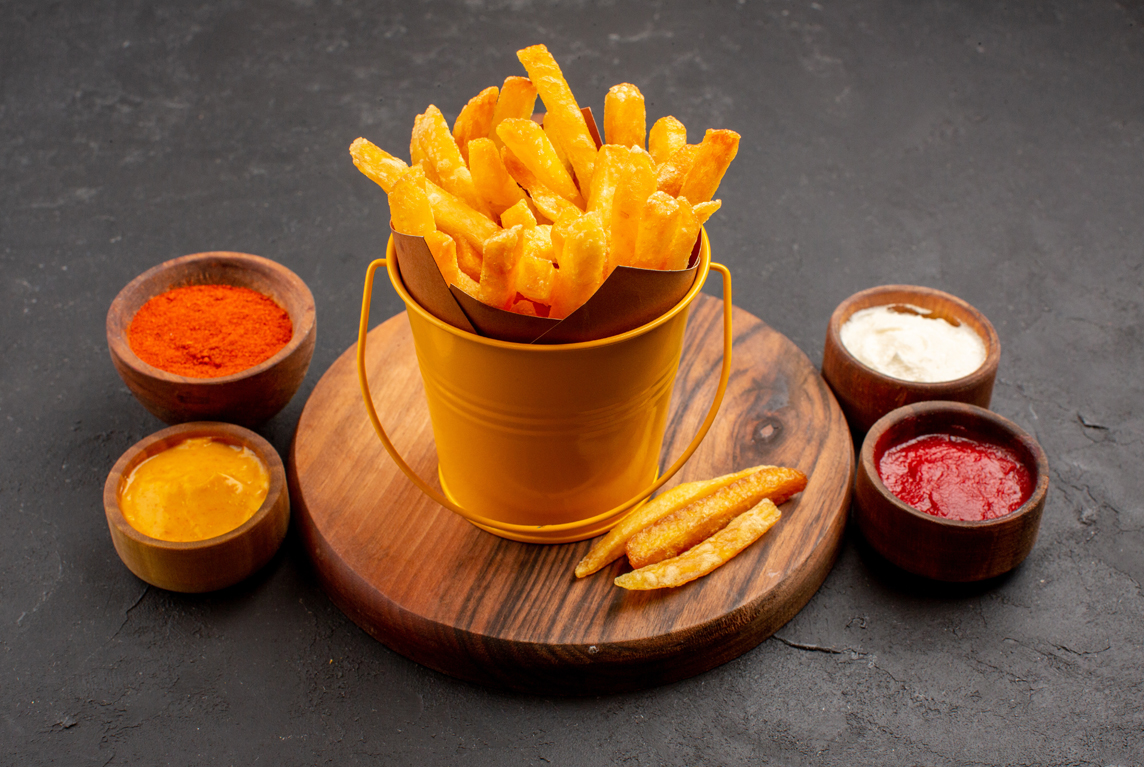 The typical potato isn't that attractive you have to admit – but it's not about how attractive or ugly a potato is, it's about all the several different ways we can cook and consume this modest but incredibly adaptable potato.
What characteristics distinguish a very good French fry? They must be consumed when they are hot, hot, and HOT!
They are golden and crispy on the exterior, tender but firm inside; and offer a flavour that can only be obtained via deep-frying in fat.

WHAT ARE FRENCH FRIES?
The most widely consumed fast food item worldwide is without a doubt – French Fries!
There is a lot of food on the table, including items from fast food, pubs, and bar menus. French fries absorb the deep-frying fat, the proteins, and carbohydrates found in the potato during the deep-frying process. Sodium, the primary ingredient in salt, is always present in surface seasonings.
The traditional preparation method is deep frying potatoes in oil or hot lard. However, they can also be baked in an oven or cooked by convection in an air fryer, a slightly healthier alternative to deep frying.
French fries are a crunchy yet surprisingly squishy potato delicacy when served hot. They are flexible sides that go well with burgers, sandwiches, and many other dishes. They can be found in a variety of restaurants and cafes around the world, including fast food restaurants, pubs and diners.
French fries, seasoned with salt and several possible spices, can be served with various condiments, varying depending on the region you are in.
HISTORY OF FRENCH FRIES
Who exactly introduced these golden strips of heavenly goodness to the world? French fries were created by either the French or the Belgians, according to the multiple theories – but we Subcontinental desis go with simple aloo k chips.
The Spanish were the ones who initially brought potatoes to Europe, not the French or the Belgians. When Jimenez de Quesada and his Spanish troops arrived in Colombia in 1537, they discovered an abandoned native settlement. They discovered potatoes, which the Spanish initially dubbed "truffles," among other items, in the natives' food supply.
About 20 years later, potatoes were introduced to Italy and brought back to Spain. The potatoes were still relatively little and bitter then, and neither Spain nor Italy had good soil for growing them. Though it was first met with a lot of resistance, over time, larger and less bitter varieties of the plant were produced, and the plant slowly spread to other parts of Europe.
FRENCH FRIES FLAVORS
French fries are loved, but when it comes to flavors, the taste of French fries has become more tasteful. You can make French fries with a mixture of different flavours, and you can also make different sauces because French fries are not only specified on "French fries with ketchup".
–BAKED GARLIC CHIVE FRIES
Yes, you do want fries with sauce, especially these golden, crispy fries that are flavored with garlic and have light heat.
–SWEET POTATO WEDGES WITH PARMESAN
Roast the sweet potato fries when you want an interesting and fun side. The greatest part is the crunchy parmesan covering. Although we prefer mustard, it tastes fantastic when dipped in ketchup, barbeque sauce, or garlic aioli.
–FULL WAFFLE FRIES
With the Loaded Waffle Fries, which are topped with a tasty mixture of cheese, scallions, and bacon, dinner will be entertaining. This favorite family recipe, which we adapted, goes well with hot dogs, burgers, or just by itself.
DESI VERSION OF FRENCH FRIES
We desis have our very own version of French fries similar to flavored fries.
Aloo bhaja and Kathi bhaja / JhNudi bhaja, both from Bengali cuisine, comes to mind as 2 examples.
Indians rarely eat French fries alone or with tomato sauce or mayonnaise as a snack because there is a wide choice of better-tasting options available. Given the accessibility of a range of frozen fries, it is becoming increasingly popular among children and young vegetarians at fast food restaurants and at home.
Think of consuming Aloo Bhaja, along with Kasundi, Aam Kasundi, or any other of the enormous range of Indian sauces. Or Kathi Bhaja sprinkled with Jhal Muri Masala or Chaat Masala!
WHY ARE KIDS CRAZY ABOUT FRIES?
Kids have unconditional love for fries; whether it's simple fried chips or fried chips with sauce, kids can eat fries all day and night. The best one of all French fries for kids is cheeseburger French fries casserole because it's a combination of kids' favorite fast foods, and not only kids, adults also whip it up with just four ingredients.