Karachi Street Food: Heaven for Taste Buds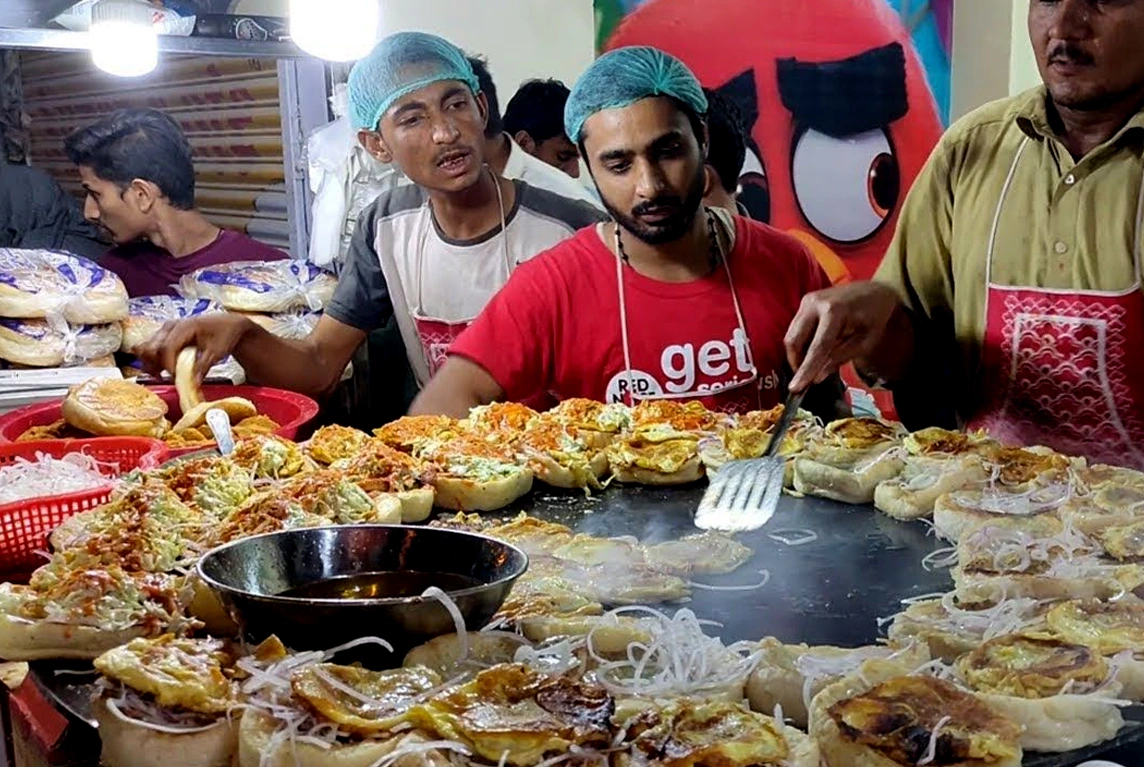 Being Pakistan's largest city, Karachi is popularly known among tourists for its liveliness and diverse food culture. Karachi street food has gained a reputation all over the world – while travelers make sure not to miss out on Karachi street food, there are also people who travel to this city specifically for its street food. 
From thousands of high-end restaurants serving all the cuisines, to dozens of bustling nightspots providing traditional specialties. The city's oldest and most famous food strip Burns Road stands out among them all when learning about the regional culinary tradition.
The area conjures nostalgia and transports you to a bygone era thanks to the abundance of historic restaurants that have now achieved global fame. Due to its rising popularity, Buns Road in Karachi has been formally designated as a street food hotspot that is only accessible on foot.
Historical Overview of Karachi Street Food
Since many Indian immigrants arrived in this particular region of Karachi during the post-independence era, Burns Road has a long history as a food street. They began experimenting with their special spice blend concoctions before sharing them with the people.
This "City of Lights" enthusiastically embraced most of its culinary customs. Most of the long-standing restaurants in this area have been here for almost 5 decades. The main factor behind their enduring success is that they haven't made any changes to the original recipes that lead to their success.
Burns Road, which has kept its appeal of authentic cuisines for decades, is adored to date by foodies from all over the globe. Traveloggers like Mark Wiens and Trevor James, aka the "Food Ranger", have posted numerous travel documentaries on Karachi's famed food street.
Famous Food streets in Karachi
Buns Road
Buns road street food has all begun right here! The Burns Road developed as the hub for a sizable group of local and immigrant business families, while Pakistan was still a young nation-state. They all carried their respective cultures, and as the families and communities expanded and prospered in their new country, the cuisines flourished alongside. Burns Road has played and still plays a significant role in the development of Karachi's diverse street foods while catering to the city's rapid population and size growth.
The tastiest Daal Chawal, Haleem, Biryani, Fried fish, Nihari, and Waheed's most well-known and delectably delicious Fried Kababs can all be found there. Fresco's distinctive Dahi Baray and the classic street cuisine of Karachi, Bun-Kabab, are unquestionably must-haves for delicious desi munchies. Nothing beats the very rich and unanimously loved Rabri for dessert. A vacation to Karachi for a foodie is only complete with a wonderful stroll down Burns Road!
Hussainabad
This one is a classic, and it's in Azizabad. One of the oldest food streets of Hussainabad in Karachi. Hussainabad offers the whole spectrum of renowned desi cuisine. Among the many Desi options, the Kabab-Paratha, Kat-a-Kat, and Qeema deserve special notice. There are burger establishments, pizza restaurants, and ice cream parlors for people who want to go unconventional. Hussainabad served even at late night, is a fantastic choice for late-night appetites.
Rashid Minhas Food Street
Rashid Minhas Road, one of the more recent constructions, is now a thriving amusement center for Karachi. Due to its convenient location, the region offers a wide range of attractions, including parks, mega malls, and some of the greatest Desi restaurants in the entire city. Rashid Minhas' food street offers the ambiance and open air of a Desi food sanctuary and is renowned for serving some of the best Peshawari and Afghani cuisine selections.
In addition to having open courtyards and high wooden platforms for seating rather than the conventional tables and chairs, the street is lined with restaurants that specialize in Karhais and Afghani BBQ meals. You are, therefore, in for a treat whether you choose Shaheen Shinwari, Afridi Inn, or Super Salateen; the combination of the delectable food, open-air seating and Karachi's well-known windy evenings is an experience worth trying.
Most Famous dishes of Karachi
The most famous street foods of Karachi are listed below, which are also undoubtedly the best in taste:
Bun Kebab
Bun kababs are a well-known street food in Karachi. Nursery is widely known for its Bun Kababs. Bun kebabs, a particularly well-liked street snack in Karachi, are a good way to start a conversation about Pakistani food. Before the introduction of burgers, they were the fast food kings. In Karachi, bun kabab stands can be found almost everywhere, which makes stopping by for a quick snack incredibly easy.
They not only have fantastic taste, but they are also reasonably priced. If you're seeking the greatest among them, visit the legendary "Nursery ke Bun Kebabs", or even Burns Road is widely recognized for this local delicacy.
Don't think twice – if you're visiting Karachi as a tourist, you must try this dish!
Nalli Biryani
In Karachi, Nalli Biryani has been well-liked for about a year. Every single person in Karachi has tried Nalli Biryani. The element or component that further distinguishes Biryani is the combination of the two. Others believe Nalli Biryani is overrated, while some belief it to be the greatest thing since sliced bread.
The best Nalli Biryani can be found in Ghousia. It is located in Liaquatabad's Block 6 and resembles a "Dhaba." Despite the place's unfavorable arrangement for families, it is always crowded.
Gol Gappay
In Karachi, gol gappay is a well-liked street snack. Remember to try the gol gappas and famed street chaat of Karachi. The street food on the entire subcontinent is well-known, especially the spicy varieties. Consider chaat, for instance. a variety of savory snacks produced by combining fried flatbread, spices, and potatoes. Gol Gappay is a significant snack that many people enjoy on the streets of Karachi (also known as Pani Puri).
Round, fried bread balls served with Chutney, and dipped in flavored water (typically spicy). Gol Gappay and chaat are synonymous in Karachi. Liaquatabad and the Burns Road restaurants are renowned for their outstanding Gol Gappays and Chaat. The most well-known of them is unquestionable "Rajoo ki Chaat" at main Bahadurabad, which offers adventurous foodies an unforgettable flavor.
Gola Ganda
In Karachi, Gola Ganda may be found at several stands. Do you feel like anything sweet? Try Karachi's renowned Gola Ganda Dhoraji Street. Without Gola Ganda, a list of Pakistani foods in Karachi is undoubtedly lacking.
Pushcart vendors can frequently be spotted selling gola gandas on almost every street in Karachi during the city's sweltering summers. The icy treat is the ideal diversion from the oven-like heat.
Kachori
The Passport Office area in Karachi is the best location to sample mouthwatering kachoris. It is a very old establishment that has long been offering freshly made kachoris. Since many excellent restaurants serve kachoris, this one might be the nicest treat for anyone traveling through the Saddar region.
Without kachoris, a list of must-have foods would be unappealing while residing in or visiting this city. You'll understand what this implies once you try this regional delicacy.