The Subcontinental Treasure:
Indian Cuisine vs Pakistani Cuisine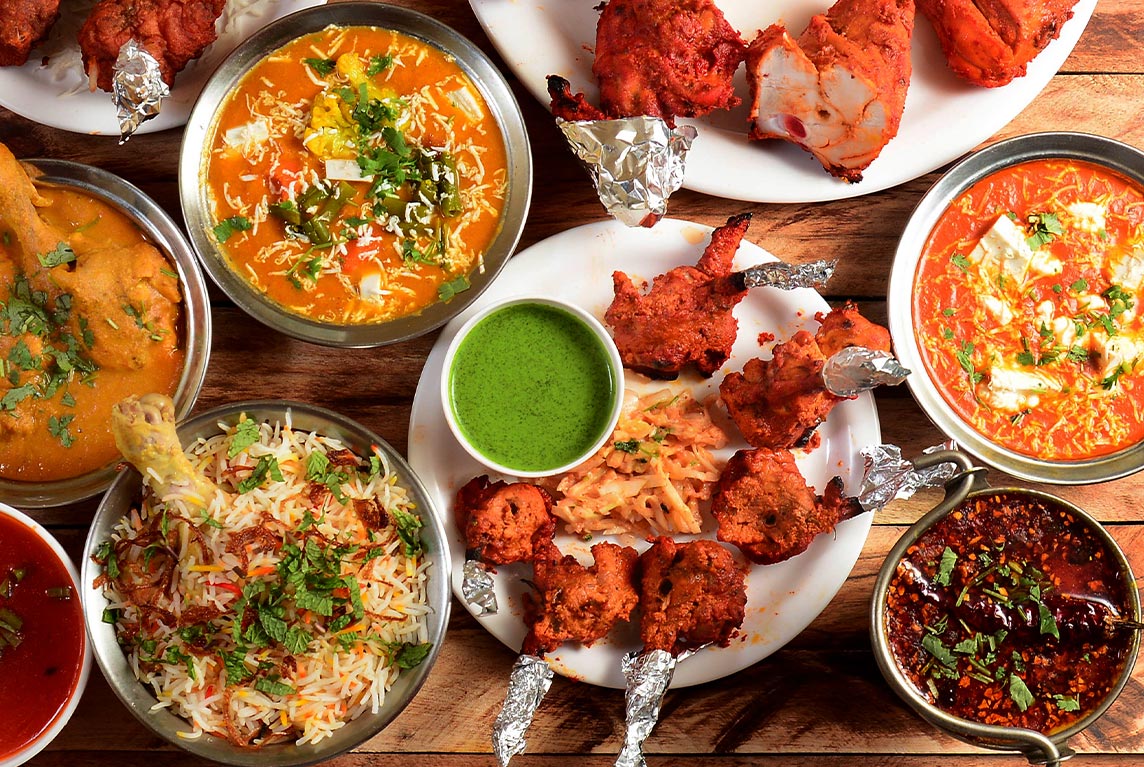 History still recalls how India and Pakistan parted ways with a desire to have an individual identity and nation. The day when both countries parted ways many of the people left their families, homes, and workplaces behind to start a new journey in their lives – And I must say, not an easy one!
Everything was left behind but there was one thing that remained the same and it was the cultural heritage, the very rich cuisine, and the exceptional taste carried along.
The history of cuisines mainly started in India, a land rich with cultures and traditions. Decades ago when spices were discovered in India, the country quickly got popular for its wide range of spices and the added taste in food with the appropriate use and combination of these spices.
If we talk about the history of food in the Mughal empire, food has a superior place with an integral part in history. Mughal foods and spices were so unique that to date, people recall their food and follow their recipes. 
Indian Cuisine vs. Pakistani Cuisine
When these two massive nations parted ways, they changed several things along with their ways of living. Their national cuisines, although having the same style of dishes and closely related recipes, also have some differences in their cuisines. 
Initially, India's culture was a combination of cultures from several distinct nations i.e. Bangladeshi culture, Muslim culture, Mughal culture, Hyderabadi culture, and many more – And these nations have their separate traditional as well as religious cultures, with distinct foods.
At the time of separation, all the Muslims migrated to Pakistan and several dishes got divided between Muslim and Hindu nations.
In India where 80% of the population are Hindus, which means most of Indian Food is prepared without the use of meat, chicken, or fish; while their main focus remains on rice, curries, and pulses.
Whereas in Pakistan the majority population is Muslim, so Pakistani Food includes every type of edible i.e. chicken, meat, fish, seafood, rice, curries, and pulses.
The religious obligations of both nations made this difference in Indian food and Pakistani Food, which was and still is respected and catered to by both nations. But there is one thing that still connects both counties the spices they use in their delicious dishes. 
Spices and garam masalas are the main ingredients that make Pakistani and Indian foods taste so relishing, giving them an extraordinary aroma every time the dish is prepared. 
– Laree Adda –
An Indian-Pakistani Restaurant in New Jersey
In foreign countries like the U.S, the UK, and more – several hotels and restaurants are serving very in-demand Indian food as well as Pakistani Food. These restaurants respect the cultural and religious boundaries of India and Pakistan, constantly working towards serving the cuisines as appropriately as possible. 
Just like Laree Adda is a restaurant of taste, aroma, culture, and traditions – so we respect and try our best to cater to all Indian and Pakistani families, making them happy and satisfied.
Here are a few dishes we serve especially for our subcontinental customers:
Laree Adda's Vegan Curries
When it comes to religion and regional factors, Laree Adda is one of the most diverse Indian restaurants, that also serves Pakistani cuisine. Because both countries have different religions and regional values but still somehow their dishes connect with each other.
Laree Adda offers a variety of vegan curries that includes Achari Aloo, Palak Paneer, Daal Tarka, and many more mouthwatering vegan dishes that are ideal and suitable for both Indian and Pakistani people.
Yes, there are religious differences in the countries but they still have the same spices giving them the same taste and Laree Adda fulfills every taste needed in Indian food and Pakistani food.
Meat Curries for Pakistani Food Lovers
Since Pakistani food includes every meaty dish, Laree Adda wanted to keep the Pakistani tastebuds alive. The meat curries served at Laree Adda will leave every Pakistani Food lover asking for more, due to the inclusion of every favorite dish for Pakistanis i.e. Chicken Tikka Masala, Phajjay Ke Paye, Lalla Ki Nihari, and the most famous and popular Mutton Korma. 
Imagine a Pakistani searching for a Pakistani restaurant and coming across the extensive menu of Laree Adda – We assure you that from the day onwards, Laree Adda will become one of their favorite Pakistani restaurants. 
Laree Adda's Bread & Parathas
No matter how different the cultures, traditions, cuisines, or religions both Indians and Pakistanis have, there is one food item that will always keep the two nations united Roti, Naan, or Parathas. 
Roti and Naan are a permanent part of the Indian and Pakistani cuisines, being a need for food lovers on both ends. Be an Indian food lover or a Pakistani Food lover – rotis and naans are a must in every curry they have. And to satisfy this need, Laree Adda has different types of naan, roti, and parathas. 
Conclusion
Keeping aside the food, cultural, and religious differences – one thing remains common above all, and that is respect for each other's views and beliefs. Laree Adda is an Indian restaurant as well as a Pakistani restaurant with an objective to satisfy every taste bud who craves desi food.