– Laree Adda's Catering – Serving Luxury At All Your Occasions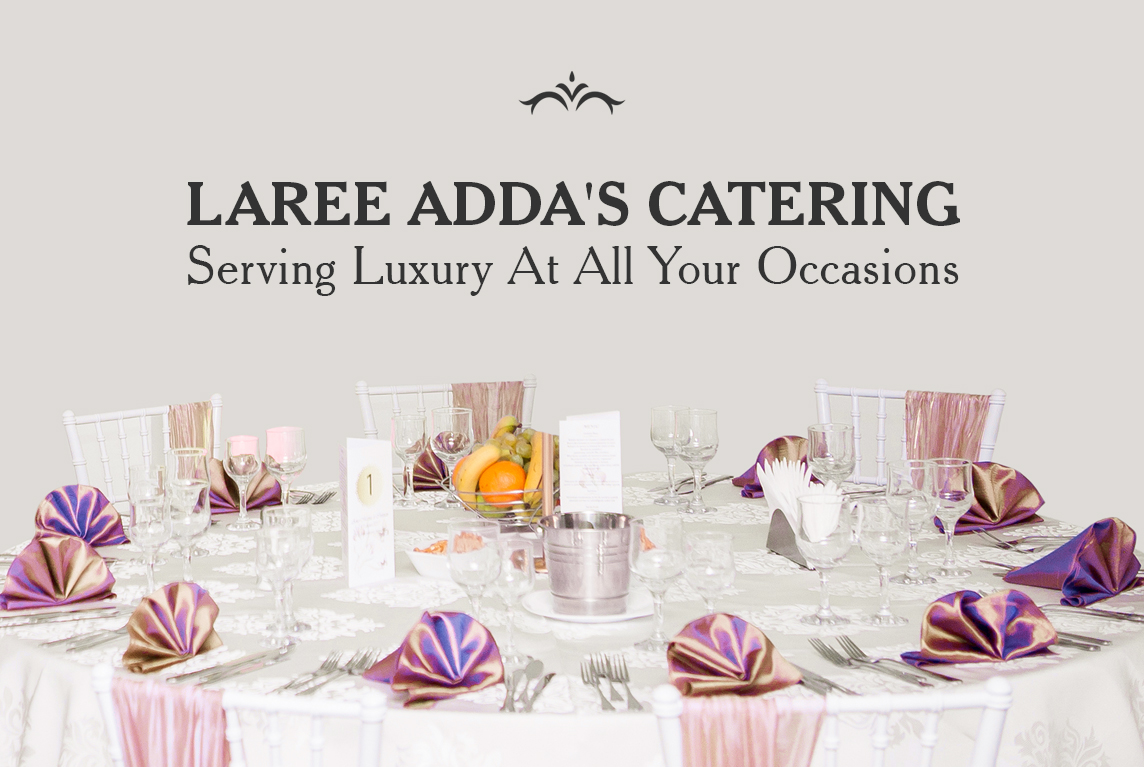 What is the first thing that comes to your mind when planning an event?
Regardless of the list of things you're thinking of right now, everyone will agree that "FOOD" is always a priority in event/occasion planning – especially in desi households!
Any event or occasion would seem quite incomplete if there's no food to entertain our taste buds – And desi's obsession with food is to an extent where at times even the event's date is set once the menu is planned.
Thanks to Chinese hospitality culture, back in the 4th millennium BC, when the tradition of serving hospitality was at its peak, they started offering catering services in many inns or hotels. (Fact: These services were offered by their slaves at that time.)
But Chinese culture made our events much easier to manage – since then, we've been serving effectively through catering services.
Now let's talk about the desi people living here in New Jersey. We understand that you miss all those occasions celebrated in your countries, among your loved ones – especially with that delicious desi food.
And for the immense love we have for our desi Culture, Laree Adda is offering unparalleled desi food catering services for all your event requirements.
Before you choose our catering services, here's everything you need to know about our catering:
Catering – Basic Facts

Catering service refers to planning, preparing, serving, and managing the food and beverages for any event or occasion – This service also includes the delivery of all the food to the desired location of the client. Also, there are certain foods such as BBQs, that are preferred to be prepared live at the event; so our catering services are also inclusive of setting up everything required for the live preparation of food.
"Your wish is my command" is what the caterer offers, being someone who takes care of everything required by the client. Be it delivering food, cooking on-site, or providing a proper set-up with management – a caterer will look after all of it.
Functions of a Caterer
Regardless of the company or client's needs, every caterer shares the same functions as they organize food services and set up on the client's location. The catering industry is a field of hospitality as this service requires care, attention, and love. Likewise, a professional caterer must have excellent and sweet communication skills which show the client that the caterer is a careful professional in his work. Moreover, he must know some cooking skills and interpersonal skills so that he could provide attention to the details.
This field does not ask for higher education, but yes it demands enough experience to manage all the chores including food preparation, calculations, event planning, and business management.
Let's have a look at the functions a top-notch catering service should provide:
– Planning the Menu
A caterer knows exactly what the client needs in their menu. Considering the budget of the client, a caterer will plan a menu that will have different types of delicious dishes, which will be appealing to the guests. An appealing menu includes entrees, appetizers, a salad bar, refreshing drinks, and most importantly, the main course.
Laree Adda provides exceptional dishes in their halal food catering services like dum chicken biryani, desi-style tasty meat curries, soft and appetizing naans, delightful kheer, and much more.
– Event Coordination
A professional caterer not only looks after the food service but also coordinates with the event manager. The caterer must work closely with the event manager so that different courses of meals can be served at a suitable time and no mismanagement occurs during the occasion or event.
– Transportation Management
Transport management is the main key to a successful catering business. It is a big responsibility to transport food in sound condition to the client's location. There are certain items like salads and desserts which need to stay chilled and the main course must be kept hot till it reaches its destination.
Laree Adda, a desi food catering provider will not only prepare mouth-watering desi foods and desserts for you but will be responsible to transport your food in a safe and sound condition.
Why Cater Laree Adda's Catering Services?
Laree Adda is the finest halal food catering service provider in New Jersey bringing every desi cuisine an Indian and Pakistani needs to their events and occasions. We not only use fresh and high-quality food products in our dishes but, we promise to keep them as authentic as our desi foods actually are.
Our desi food catering services include an extensive range of desi dishes that are prepared with real taste and flavors from our desi chefs who have expertise in dishes like chicken malai boti, chapli kabab, vegetable curries, and much more with many varieties of sweet dishes.
To cater to Laree Adda's services, it will not only offer you flavorsome foods because we love cooking for you but, we assure you to take all the burden from your head to ours and will provide remarkable catering services. These are some benefits you will receive from our side:
We all know planning and organizing an event takes a lot of time and effort especially when it comes to providing high-quality food. Laree Adda will take over all your stress related to food and we will display a divine food presentation that will wow your guests.
In foreign countries, we always search for halal food. We assure you to deliver a halal food catering service at your events so that you savor the food without any second thought.
Just name your favorite desi food and Laree Adda's desi food catering will offer you every dish of your choice. Be it dum chicken biryani, meat curries with a variety of naans, kheer, kulfi, and other sweet dishes, Laree Adda has all of it.
Because we prepare food with love, care, and authenticity, we would love to cater to your occasions, parties, and other events with excellent food taste, giving you a mind-blowing experience.