5 Vegan Curries Diversifying Your Experience at Laree Adda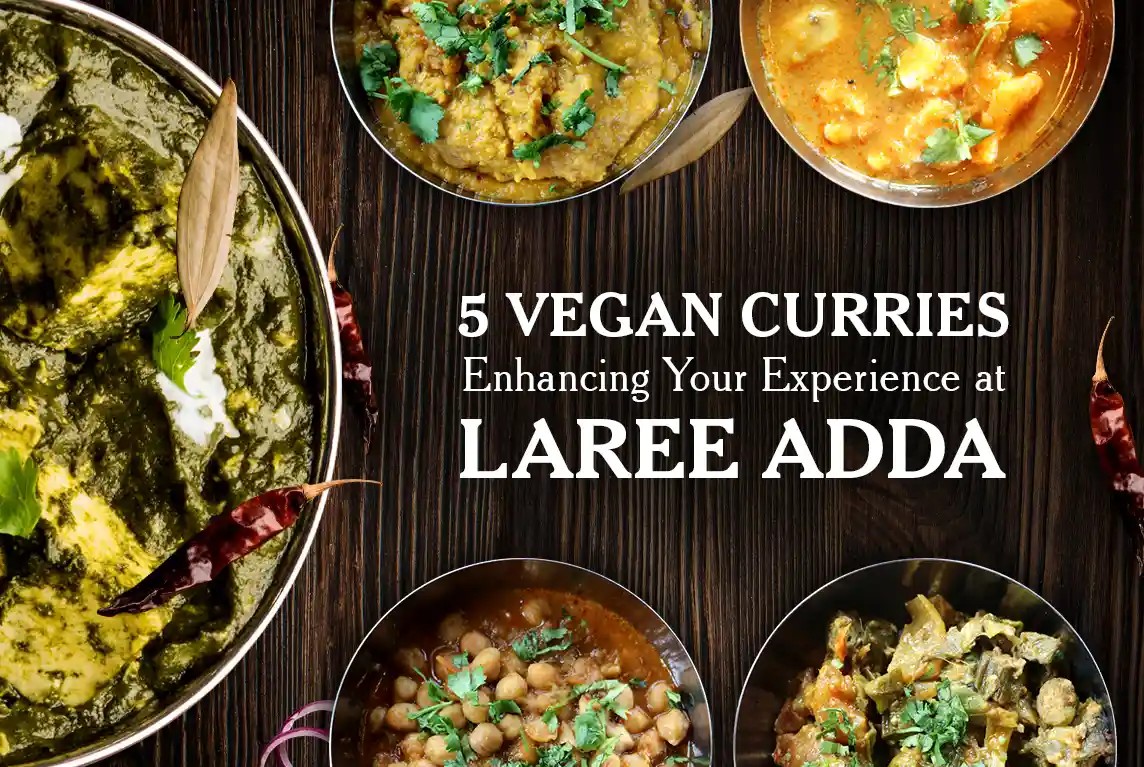 From healthy vegan curries, to a wide range of exceptionally flavoured vegetarian dishes – Laree Adda is known to serve the most authentic dishes for spice and flavour, catering to all our desis living far away from, craving the euphoric nostalgia through their rich foods.
Vegan curries are the best option when you're craving some comfort food.
Subcontinental cuisine has always been the all-time favorite. It's tasty, healthy and versatile, and usually made with easy-to-find ingredients. These vegan curries are based on legumes and vegetables, so it's ideal for those who don't know how to start a vegan diet or want to try something different for their meals.
Curry is perfect for the cold days because it's hot and it's quite spicy. It's quickly prepared and a super tasty dish, and it's made with chickpeas and potatoes, a delicious and comforting combination.
Vegan curries, made with lots of veggies, spices, and other natural ingredients. Its texture is soft and creamy because of the coconut milk and it's satiating, savory and rich.
Here are 5 of the best vegan curries served at Laree Adda, that will adorn your experience even more:
ACHARI ALOO
Achar' literally means pickle in Urdu. An Achari dish is any dish which is cooked with a distinct tangy, pickled flavour.
There's a special and specific spice mix when it comes to all Achari recipes. It's essentially what creates its distinct flavour and sets it apart from other recipes which may also be tangy, but not Achari.
Remember this spice mix, as it will come in handy in the future for any Achari dish you may want to try! You can use this for any vegetable too and you will get that traditional Achar taste.
BHINDI MASALA
Bhindi Masala is a North Indian curry dish featuring tender okra pods, piquant onions, tangy tomatoes, bold spices and herbs. It is a popular dish and served
"Bhindi" is the Hindi word for okra and "Masala" – here it refers to a sautéed base of aromatics like onions, garlic, ginger with the usual tomatoes, spices and herbs.
So there you get the meaning of Bhindi Masala – okra cooked in a spiced tangy base of onions, tomatoes and ground spices. The spice combination used here is often added to many Punjabi recipes.
PALAK PANEER
Palak paneer is a popular vegetarian Indian dish made using spinach (aka palak) and Indian cottage cheese (aka paneer). Spinach is blanched and blended into a puree after which it is cooked with spices and cottage cheese to create a rich, creamy and flavorful curry that tastes delicious with naan and rice.
This is a vegetarian recipe but can easily be made vegan by replacing the paneer with tofu, using vegetable or coconut oil instead of ghee and using coconut cream instead of cream. The cream can also be skipped – and can also be added on requests.
Palak paneer is served hot with a side such as roti, naan, paranthas, makki di roti, or boiled rice. It can also be served with onions on the side for a more traditional approach.
DAAL TARKA
Dal Tadka is a popular Indian lentil dish made with arhar dal (husked & split pigeon pea lentils) or masoor dal (husked & split red lentils). This Dal Tadka recipe gives you a delicious creamy dal with smoked flavors. Laree Adda has long been the best at serving originally flavoured Daal Tarka, and the people have been coming back for it for years now.
LAHORI CHOLAY
Lahori Chaney (Chikar Chaney) is a chickpea stew from Punjab. Depending on the region, it's a famous street food dish by various names, including chikar channay, chana masala, and Sholay. Chikar (pronounced chik-car) is a Punjabi term meaning mushy, and "Chole" is a Punjabi word that means chickpeas. Because of the texture and consistency of the curry, the dish's name translates to "mushy chickpeas. The Lahori Chaney is simple to prepare and does not call for many ingredients, but you will get that same street-food flavour you desire at Laree Adda. It's a protein-rich, substantial, flavour-packed dish that's also vegan and gluten-free.
Curries are traditionally served with white or basmati rice. The rice and chickpeas combination makes a great source of protein and rice also helps with the spiciness. At Laree Adda we make sure to cater all our vegan and desi food lovers.