– Desi Breakfast – A Morning Festivity at Laree Adda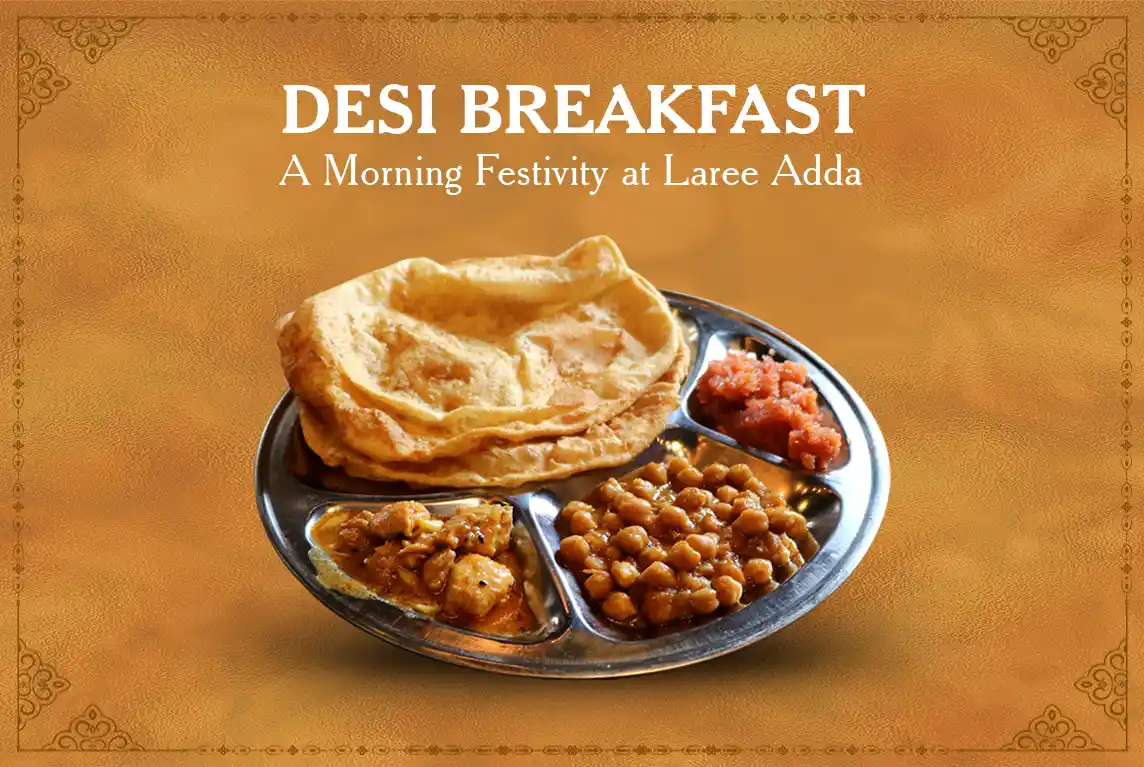 NOTE: This letter was shared with us by a couple who visited Laree Adda after their son shared his experience with them, and made a recommendation for a visit.

Dear Maa,
I am healthy and doing great at this new job in New Jersey. The time has passed so fast, it doesn't even feel that it has been six months already. The only two things that have made me feel each passing moment in this busy life are: not having you two around, and your food maa – especially the breakfast you've made me so used to.
But I do have some good news – I've found a place called Laree Adda to satisfy my cravings for our desi breakfast. Its a desi subcontinental restaurant, from where I've been getting delicious breakfasts, just like you used to make for me.
This has been a game changer for me, and you don't even have to worry about my health anymore. I can't wait for you guys to come to see me – We'll definitely visit this place together!
Take care of you guys, and see you soon.
Your loving Son.

xxxx …………………………………… xxxx
We've always seen our grandmothers treating breakfasts like a gold treasure that somehow ensures to enlighten your vision and make you healthy.

Desi households have been very much used to mothers waking up early in the morning to knead flour and make parathas, various types of eggs, halwa puri, cholay, and a lot more – this gives us a feel of the real desi nashta preparation taking place.
Several types of research have proven that people who opt for a good nutritious breakfast tend to be healthier and much more active than the rest. This also leads us to realize why our parents and grandparents have always been forcing us to consume wholesome breakfast.
Another tasty fact about desi breakfast is that there is a wide range of dishes and countless combinations – Imagine waking up in a desi household at breakfast time, and being served 10 distinct dishes.
Isn't it deliciously amazing and fascinating at the same time?
Be it a desi-style omelette, all-time favourite paratha or the first love of every desi, halwa puri; all of it is incomplete without doodh patti chai (tea), and of course, how can we forget "Lassi".
Now you must be craving a rich desi breakfast – and if you are in New Jersey, Laree Adda's serves all that you desire to satisfy your taste buds and the nostalgic taste of home.
Let's check out what Laree Adda has for you all in its very appealing breakfast menu:

Desi Breakfast at Laree Adda
We know the importance of breakfast because we are as desi as you are, which allows us to cook with all our heart, just to make our desi fam happy and satisfied; while maintaining the food quality, as we care for your health just as much as your grandparents used to do.
Here are some tasteful desi breakfast items we serve at Laree Adda:
Paindoo Omelette
We've all heard of the American-style omelettes, Spanish Omelettes, and many others; but a Paindoo Omelette is an exceptionally delicious desi omelette that is served at Laree Adda. This desi breakfast's highlight is not like other omelettes, as it is made up of our special Punjabi chef who has expertise in preparing this omelette, desi style.
As he pours oil into the pan and while heating the oil – in a bowl of full of eggs he mixes tomatoes, onions, and green chilis with a pinch of salt and black pepper, as it enhances the taste and we assure you'd instantly fall in love with this scrumptious desi style "Paindoo omelette".
Have it with Laree Adda's fresh Paratha, and you will love our combination of hot and spicy omelette with our crispy fresh parathas.

Mughal Nashta
Yes, you're guessing it right by the name "Mughal Nashta", as it only indicates our all-time favorite desi breakfast, and that's a platter full of love "The Halwa Puri".
In this Mughal Nashta, we serve a platter that serves tempting achari aloo made with extra flavors, Lahori cholay with full of Lahori spices, and a delight for all the desi sweet tooth, our yummy scrummy halwa.
Isn't it a wholesome platter of a perfect desi nashta that we always want to have on Sunday mornings?
Laree Adda is open for our desi fam every Sunday to enjoy fresh and healthy Mughal nashta.

Chai – A Desi's Need Every Morning
No matter how much of a delicious breakfast you've had, it will always be incomplete without a relaxing cup of chai. Chai is considered to be a gift of God for all, as this little cup of tea offers all the energy to fuel our minds so that we can work all day.
Laree Adda is always at your service to satisfy your chai craving and that original doodh Patti flavour will definitely calm your mind.
We promise you will have a fresh and lively day once you'll have a cup of chai at Laree Adda.
If you are a Kashmiri chai lover, you are at the right place because we service the best Kashmiri chai in the town.
Laree Adda has so much more for you as we take it as our responsibility to take care of all your food desires and most importantly your health.