Chai – The Heavenly Beverage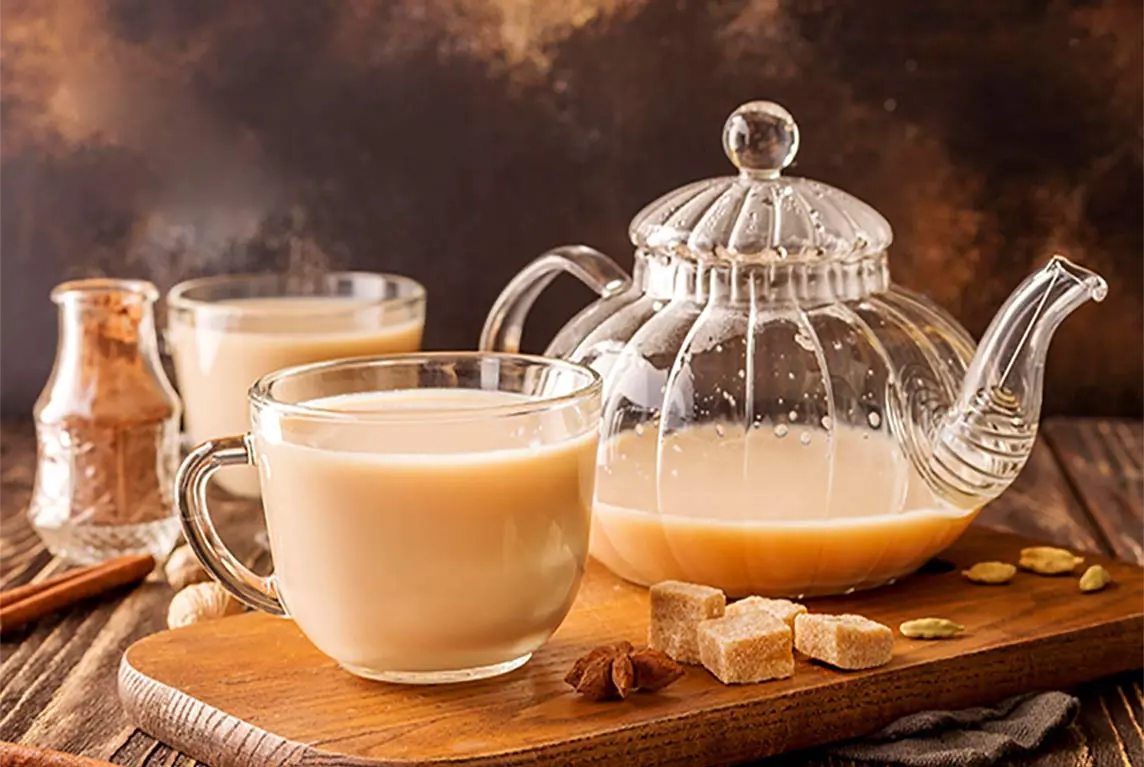 Chai As An Experience!
I still remember the first experience I had when I first tasted this insanely relaxing and tasty beverage.
I saw 3 cups coming to us and the aroma coming from those cups is still unforgettable.
It was the aroma of Chai that was calling me to have a few sips of it. My mother never allowed me to have chai but that night I got to know the pleasurable secret of Karak Chai as I had the first sip of it from my mother's hand and it got into me like an energy booster running insanely in my veins, and I felt every single taste of chai so deeply which reminded me that I belong to a desi family where chai is the ritual and a significant part of our sub-continental culture.
From that day till now, I never stopped having doodh patti karak chai even when I travel to the USA New Jersey, and here sitting at Laree Adda, having the same taste of chai I had in childhood took me to a nostalgic journey and compelled me to write this little story in my journal.

By an Indian Traveller in New York.

From an Indian journalist in New Jersey
Honestly, chai is our love language, a part of our ritual and culture, and our daily need to start our days.
This is the oldest drink in the history of the sub-continent which is made with different ideas and styles according to the culture of different families, villages, and tribes of India.
As India has a versatile history that is proud of the people of the sub-continent and Chai is one of the most known, loved, and graceful histories of India.
For all the desi people, Karak Doodh Patti Chai is a foundation of the rhythm of their daily lives, the sign of hospitality, the evoking sense of identity that every subcontinental desiis have and it builds a connection to our heritage as it is a habit that we are following from thousands of years.

Chai is not just a hot beverage, it is the sweet nectar of comfort and royalty.

A Mystery In The History of Chai
Chai is the love of every desi and it has been part of our versatile culture for thousands of years.
But has a question ever tinged your mind that,
What is chai?
Who thought about mixing tea leaves with spices?
How has this mixture turned out so tasteful that it relaxes our body and mind?
Let us solve this mystery that we noticed in the history of chai.
Turning back the clock to 5000 years, the folk tales say that Chai has the power of royalty because it was first made in the royal courts and from the hand of the regional king.
It was also stated by folklore that when the illness of the king's son got extreme and no remedy worked on him, this made the tense king walk through the doors of the royal kitchen and he had to make something powerful to cure his son. When a blend of tea leaves, spices, and milk was mixed and boiled together every one sensed the aroma of something new, and then came a portion of cure, an Ayurvedic beverage, and the need of everyone today, it's our Doodh Patti Karak Chai.
Chai made up of spices not only has an amazing taste but is a remedy to treat chest infections, and sore throat as well as relaxes the muscles.
Laree Adda never disappoints any desi when they need tasteful, mouth-watering, and comforting desi food but we know the desire for Chai is a never-ending thirst so we offer your favorite chai collection at Laree Adda.

Chai Session at Laree Adda
We are very well aware of the taste of chai you all crave and Laree Adda promises to satisfy your chai cravings in every way. Here are the types of chai we offer for our desi fam.
Karak Chai
Karak Chai is more like a strongly milky treat for chai lovers who need a fresh start to their morning to handle the lazy, busy day.
Laree Adda has a separate affection when it comes to making a Karak Doodh Patti Chai as the chai patti is specially shipped from India. We boil the black tea till we sense the aroma and when the addition of pure milk combines, it turns out to be an addictive drink for every chai lover.
Enjoy our Karak Chai with our fresh plain paratha.
Kashmiri Chai
Kashmiri chai is undoubtedly an enigma to make because pink is the shade that describes the name of a properly made Kashmiri Chai.
At Laree Adda, our priority is to maintain the taste, and for that, we not only ship tea leaves from Kashmir but we have a Kashmiri chai wala too who exactly knows how to bring that taste.
This pink tea has a refreshing taste with a garnishing of crushed nuts that makes it strong and healthy for everyone who sips it.
Gunpowder Chai
A simple phenomenon behind the name "gunpowder" is that the tea leaves of this tea are rolled into tiny balls that make it look like gunpowder. This tea has a taste that is slightly smoky but it is so beneficial for your immune system.
Gunpowder chai is basically a sabz chai made up of green tea leaves and a mixture of spices which is always healthy for all of us.
Laree Adda offers this gunpowder tea keeping the exact color and taste that gives a feeling of warmness and healthiness together.
Laree Adda values the tradition, culture, and history of the sub-continent, and that's why we give our best to maintain this tradition and taste in our restaurant.
Visit Laree Adda and savour the taste of culture and history.