Chicken Tikka Wrap: Laree Adda's Meaty Deliciousness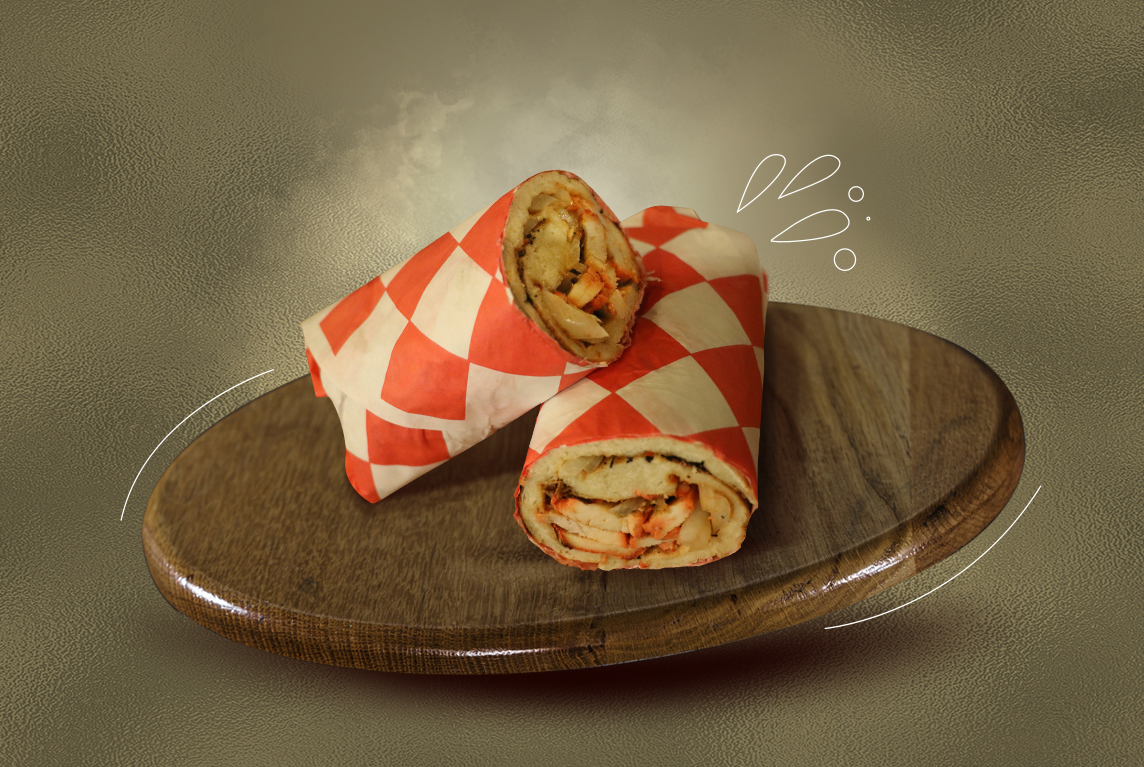 A dish of the century, the pride of sub-continental cuisines, and the taste of every desi food lover – the one and only "Chicken Tikka" and to make it more lavish, the modern chefs turned this BBQ delight into "Chicken Tikka Wrap".
Let's picture a scrumptious scenario in your mind:
You are walking on a food street and suddenly you smell something charcoal-like as the smoke of spices and flavors invites you to witness what is so deliciously being cooked on the street, grabbing everyone's attention. And then you noticed a professional playing with the bed of fire full of charcoal and among the rising flames, you see some marinated chicken in full spice and red masalas. That small boneless spicy pieces of chicken threaded on metal skewers, and as the fire from the charcoals touches the chicken it starts to get brownish as the marinated masala on the chicken was giving it taste and color together while making one of the world's favorite dish that is called the Chicken Tikka.
What a mesmerizing view it would be if you keep on imaging that to add more taste to the smoked chicken tikka, the old man took a fresh round piece of paratha and filled it will the pieces of chicken adding tangy chutney and salad as he rolls the paratha and turns that tasty chicken tikka into an epic and modern dish, called "Chicken Tikka Wrap".

Origin of Chicken Tikka
The dish's origin is still disputed – Some claim that a Bangladeshi cook in Glasgow, Scotland devised it in the 1970s, in an effort to win over the heart of his customer topped his chicken tikka, which consists of boneless chicken pieces marinated in yogurt and curry spices and served on a skewer in the kabab-style with a light tomato cream sauce.
It is also said that the dish presented to the customer was inspired by the common north Indian dish butter chicken. According to some, they have also observed, chicken tikka masala is the earliest well-recognized example of fusion cooking. In Britain, this dish has gained a major cultural significance, and one of the British cooks praised chicken tikka as a representation of modern multicultural Britain.
Later on, he also explained that Chicken Tikka is an Indian dish and the masala sauce was added to fulfill British people's appetite for their meat to be served with gravy.
Sub-continental cuisines have a different image in the vision of food historians because these cuisines are so rich and full of historical events that these food historians and researchers cannot stop themselves from knowing more about them.
When the origin of chicken tikka was researched, it appeared that this dish again belongs to the only rich in-cultural and traditional country India. As this dish was discovered during the times of the Mughal era. Tandoor oven-roasted chicken is the foundation of chicken tikka masala's rich flavors. Over 5,000 years ago, the tandoor oven was invented, while the tikka dates even farther back to the 16th century.
The story goes that Babur, the first emperor of the Mughal empire believed that eating chicken carried a risk of death,. since one could eat the bones and die. So instead of using complete chicken parts, boneless, bite-sized pieces of chicken were marinated in yogurt and curry seasoning, placed on metal skewers, and grilled in the tandoor.
And from that time, not just the Mughal emperor but all the classes of the Mughal empire loved eating chicken tikka and now it is one of the most common and favorite desi snacks that has taken many names and shapes such as chicken tikka wrap, chicken tikka naan wrap, chicken tikka paratha roll and much more.

Laree Adda's Chicken Tikka Wrap
Chicken Tikka was a simple yet the most scrumptious BBQ dish but, modern chefs and food lovers thought to give this scrumptious dish different variations. Chicken Tikka Wrap is one of the variations that Laree Adda added to its menu because the desi food lovers in New Jersey need this kind of exceptional, unique but traditional taste while savoring their meals.
Small chunks of boneless chicken marinated in a masala that has the creaminess of yogurt, spice of red chilies, and sourness of lemon juice when mixed and combined with the chicken, and then grilled on the charcoals turning those raw marinated chicken into a mouthwatering dish called Chicken Tikka. And to make it more worthy, the chefs of Laree Adda roll the chicken pieces into a fresh tandoori naan with marinated onions and chutney turning it into a Chicken Tikka Wrap.
You will never experience such exceptionally full of tasty chicken tikka wrap that is served at Laree Adda – Ensuring to cater to your taste buds!
We serve our chicken tikka wrap with our special kachumber salad or french fries with mint chutney to give you a whole new experience. Laree Adda is with every foodie who wants to explore the taste of culture and tradition, with distinct deliciousness.
Try Chicken Tikka Wrap from Laree Adda and let your taste buds feel the flavors of modern-style traditional food!