Chapli Kabab: A Food Memoir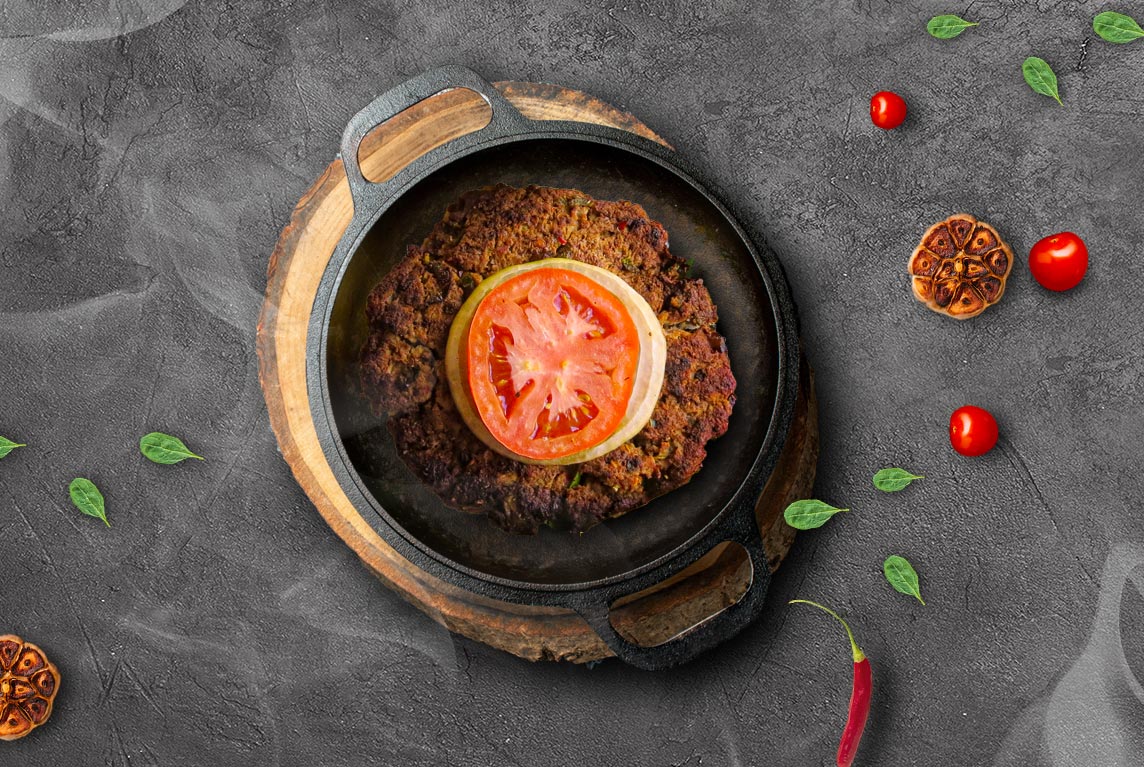 In the world of cuisines and food cultures, some dishes are the remembrance of our ancestors, so after quite a bit of research and a pinch of our own experience we bring you another food memoir, from the Food Journal of Laree Adda – On the majesty of the kabab's family, "Chapli Kabab". 
Chapli Kabab is a traditional spicy delicacy that is playing a considerable role to satisfy our taste buds for years. There are very rare cooks and chefs in this world who have maintained the authenticity of this succulent dish, but once you will savor the real taste of it, you will admire the person who actually invented this dish. 
Let's dig into the origin and the food story of Chapli kabab and see how and from where this dish has entered our food culture.
History Of Chapli Kabab From The Food Journal Of Laree Adda
Coming towards the history of chapli kabab, many claimants say that chapli kabab belongs to their region. Well, after all, it's "Chapli Kabab" so fighting over its origin is completely understandable. 
Here is a short story by a famous Urdu writer Qari Javed Iqbal:
Book: Frontier Culture In The Mirror Of History
It is back in the times of India when wars and fighting to capture the homeland of India were at their peak. Including Mughals and Turks, Afghans and Ghazis were also the ones who wanted India at any cost.
At that time, people living in India were vegetarians but when the Mughals conquered India, they introduced and developed the habit of eating meat in many ways and customs as if they were carnivorous. Although the new culture and customs were opposed to the previous one, people living there had to accept the change.
Coming back to the story, Mughal's meat-eating culture was increasing day by day as they asked their chefs to make something different every day.
Of course, the dishes and innovation reached their limit at a point, and the Mughal chefs were out of ideas to make something new and different from meat. The head chef announced in the state that whoever will bring some new meaty dish for the King will be rewarded. No one dared to do so because the punishment was death if the king didn't like the dish. 
A young Pakhtun boy dared and claimed that he has brought a unique dish from his Pakhtun culture and once he serves it, the whole Mughal palace will be surrounded by the enticing smell of lamb meat combined with fat and many authentic Peshawari spices with the juiciness of tomatoes and onions.
And it happened!
The Pukhtun boy stole the show when the dish was presented in front of the king, he was amazed to see the garnishing, and what was more astonishing was the flat round shape made out of the minced lamb meat and fat.
The King asked surprisingly, "Oh little boy! What have you brought in front of me?"
And then the young Pukhtun boy answered very proudly that this dish belongs to my ancestors, we are Pakhtun and this dish is called "Chapli Kabab".
From that day till now, Chapli Kabab is known, eaten, and loved by meat lovers from India and the tradition moved to Pakistan as well. Not only in India and Pakistan, but Chapli Kabab is adored by Arabs, Turks, and Persians alike. 

Chapli Kabab – Interpretation
The word Chapli kabab is derived from the Pashto word "Chaprikh/ Chaprikh/ Chapleet" which means flat. For the sub-continentals, it's Chapli kabab which the locals resembled from the sole of the sandal because of its flattened shape.
Peshawar is known for its firm culture and rigid traditions as they spend a lifestyle which was followed by their ancestors even if the time changed but their ways of living are still the same. But there is one more thing for which this region is popularly known, and that's the exceptional food taste which they have been able to maintain for years, with seemingly very simple recipes.
Peshawar is part of Khyber Pakhtunkhwa and Chapli Kabab can be taken as their signature dish because this dish has a distinctive place in the food list of Peshawari food and is available in different eateries of Peshawar with suitable rates and so those less privileged people can enjoy this food occasionally.
Chapli kabab is specifically made up of lamb meat and fat but some people don't like the taste of it, so for them, the kabab moved toward variations such as afghani chapli kabab of mutton meat, Beef chapli kabab, and chicken chapli kabab.

Taste The Authenticity of Chapli Kabab At Laree Adda
There is no compromise when it comes to bringing authenticity to any dish at Laree Adda, and like every other scrumptious dish, Chapli kabab has a rich history and to maintain that Laree Adda adds special spices to keep our Chapli Kabab as tasty as they are known for.
This delicious kabab-based dish is made with ground chicken mince blended with our unique Himalayan herbs, which gives it a hint of the flavors of South Asia's mountainous areas. 
We promise to deliver the real taste of everything we serve – Every feast is a moment of celebration for us at Laree Adda. 
– Laree Adda –
Home To Deliciousness