Kashmiri Chai – The Pink Love of Winters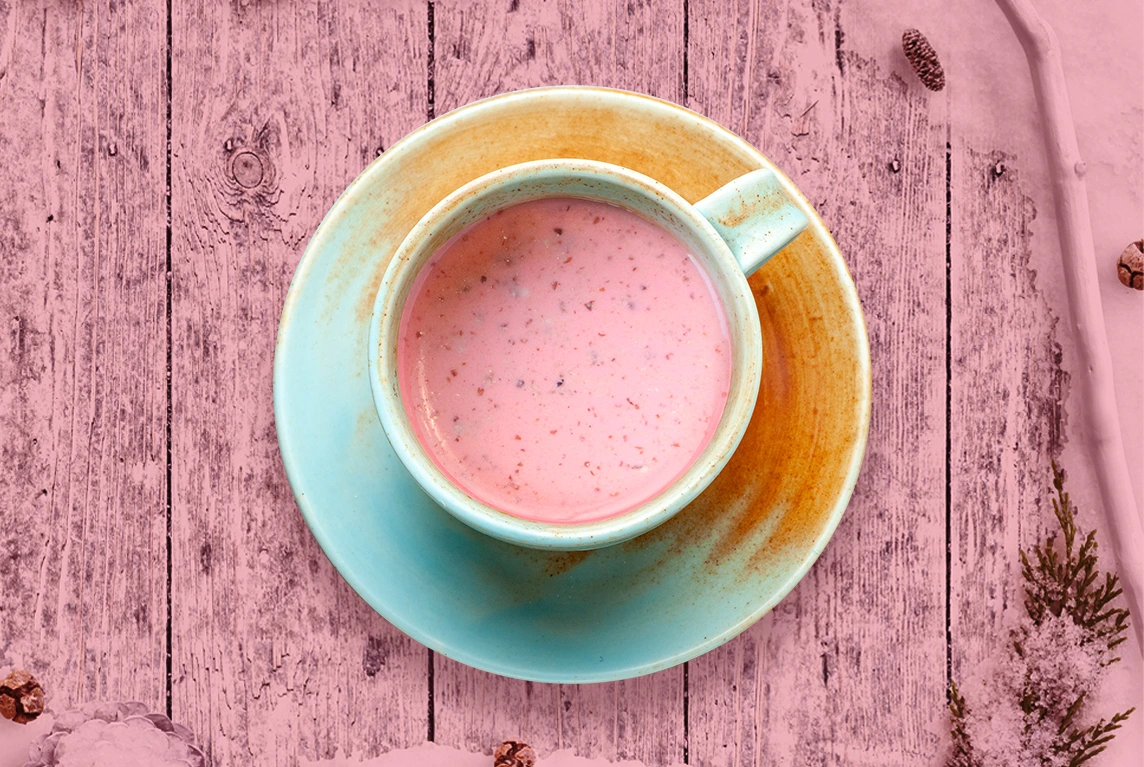 Every region has different cultures and traditions. If we talk about food, the taste differs a lot since some like to make it spicy and some just can't imagine the word spice in their food.
Regardless of any region and their cultures or tradition, we adore everything that plays an important role in making the history of the sub-continent.
Kashmir is also one of the most beautiful regions of the sub-continent which is not only known for its beauty but Kashmiri food also plays an equally important role when Kashmir is remembered.
When you hear the word Kashmir, your mind instantly shows the picture of dishes like Kahwa, Modur Pulao, and Shab Deg, and blaming you for thinking about these dishes is pointless because Kashmiri cuisine is actually known for all of these delicious foods.
But there is one more thing you all are missing and which is not only famous in Kashmir but in many parts of the Asian continent and that is the "Kashmiri Chai".
Because the love for this tea is among many people, they have named this tea with different variants like Noon Chai, Sheer Chai, Namkeen Chai, and Pink tea.
Kashmiri chai is now not limited to the Kashmir region as it is served in winter in every chai ka Dhaba and most people enjoy this delightful tea in the late night wedding functions with the rhythms of a slow song, a cozy environment, and a cup of hot Pink Kashmiri Chai giving them a feel of warm hugs in the cold breezes.
The origin or history of Kashmiri chai and Kashmiri culture is differently believed by the folks and we hear different stories from them.
Let's see what they say about Kashmiri chai.

History Of Kashmiri Chai
According to some Kashmiri folks, it is believed that the Noon chai was brought by a Persian Sufi saint Mir Syed Ali Hamdani to Kashmir when he traveled to the central Asian state. As the Kashmiri culture and heritage were highly influenced and revolutionized by the Sufi Sanit because he tried to uplift the social and economical side of Kashmir from the teachings of Islam.
Other folks from the Kashmiri culture believed that the Kashmiri chai was introduced by Bulbul shah who was from Kashgar, Turkestan. It is thought that Sultan Shadruddin Shah, the first Muslim in Kashmir, who converted to Islam under Bulbul Shah, made drinking Noon Chai a morning ritual. Moreover, the Gur Gur chai which tastes the same as the Kashmiri chai is consumed by the people of Ladakh and this chai is similar to the Atkan chai from Turkestan. And in that way, the Kashmiri culture introduced a remembering beverage in the Kashmiri cuisine which can be considered as a gift from Turkestan to Kashmir.

Kashmiri Chai – A Unique Pink Colored Tea

Isn't it startling how a simple tea can turn into a pink color?
And how this Pink tea is so beneficial, especially in the winter.

Let's dig into the facts of the valuable beverage of Kashmiri cuisine and the pride of Kashmiris "The Kashmiri Chai"
It's simply a Sci-fi game!
Kashmiri chai is basically made up of gunpowder tea. Gunpowder is the green tea leaves rolled into small balls. When the green tea leaves are cooked, a pinch of baking soda is added to the tea which gives an alkaline reaction and turns the tea into a maroon base color. After that, the addition of milk and a teaspoon of butter enhances the color as well as the taste, turning the maroon base, pink in color.
And this is how the Kashmiri chai is also called Pink tea.
Another fact about the Kashmiri chai is that it's a bit salty. That is why this chai is also called Noon chai in Kashmir because 'Noon' means 'salt' in the Kashmiri language.
The benefits of Kashmiri chai are as clear as the ingredients added to it.
Basically, Kashmiri chai is made up of salt and this is how the authenticity is measured of this tea. You might be wondering how a tea can be salty, well this pink tea has both salt and sugar in it which makes the flavor sweet and salty.
Adding milk to the tea will make it tastier, richer, and creamier as the first sip will make you feel like sitting in the gardens of heaven and enjoying this pleasant tea in a relaxing background.
Now what's beneficial in this tea is the usage of nuts and ground spices. Adding spices like cloves, cardamon, star anise, and cinnamon, plus the taste of nuts like pistachio and almond will make the tea so warm and healthy that it will not only revive your body but your inner soul will thank you for giving such a delightful treat.
Kashmiri Chai is a wonder in all the hot beverages and once you will taste this tea, it is so sure that you won't take anything else on cold nights.

Laree Adda's Winter's Delight – Kashmiri Chai
In New Jersey, when the cold mornings and freezing nights will disturb your peace and you will be missing your homeland where you use to spend the winters with your family having a cup of coffee and Kashmiri chai, Laree Adda will welcome you as a family member and will not let you forget the feels of home because we are presenting the authentic Kashmiri Chai at our place.
We assure you the taste and quality will be according to your expectations so bring your family and friends to Laree Adda this winter and revive the cold nights into warming and happening ones.