Samosa vs. Pakora: Which is the ultimate Ramadan snack?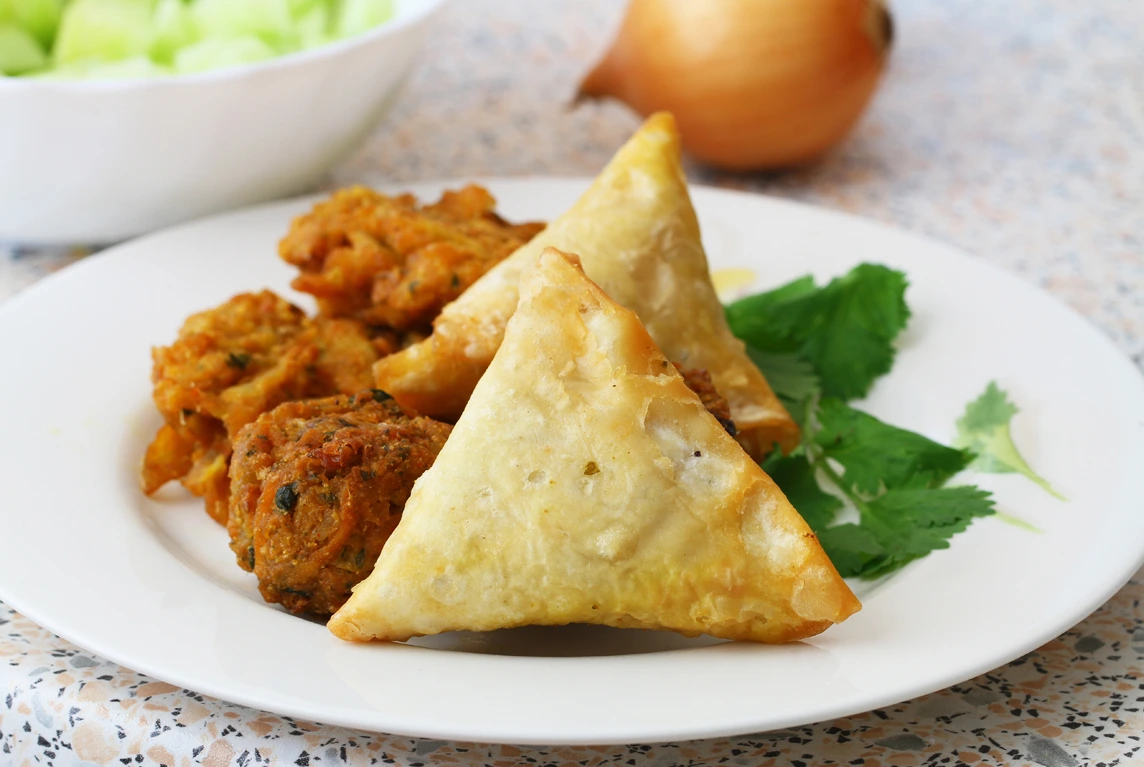 The form is the primary distinction between samosas and pakoras. Pakoras are circular, but Samosas are triangular. While Pakoras can be either savory or sweet, Samosas are typically made with a savory filling.
While samosas are typically made with potato filling and wheat flour dough, pakoras are typically made with besan (chickpea flour) and deep-fried. Furthermore, additional veggies like onion, cauliflower, or spinach are more likely to be found in pakoras.
Although both snacks are well-liked in India and Pakistan, there is a major difference between the two foods.
What is Samosa
As the national snack of India, there must be variations throughout the many states due to the diversity of our population. Non-vegetarian communities like the Boris and Parsees specialize in Patti samosas, triangular cocktail-size morsels with a thinner crust and keema filling, and the common Punjabi Samosa with its thicker crust and potato filling.
What is Pakoras
One or two ingredients, such as onion, eggplant, potato, plantain, paneer, chili pepper, fish, chicken, or bread, are typically used to make pakoras. They are dipped in gram flour batter before being deep-fried.
The Origin of Samosas
It would be fantastic to know when and who stuffed the first Samosa, but we do not currently have this knowledge. Nonetheless, we are aware of the word's actual etymology. This triangle-shaped snack was called sanbosag in Persian literature, which may translate well to "beautiful triangles."
The literature describes this snack as being served at the grand courts of the Ghaznavid Empire, even though it was traditionally prepared over an open fire while travelling. As one might anticipate, the pastry would naturally be loaded with meats, dried fruits, and nuts. Samosas were first brought to the Indian subcontinent by traders from Central Asia in the 13th or 14th century.
Much as they do now, different groups of people and civilizations have affected those in their immediate surroundings throughout history. The Samosa would repeatedly change as migrants entered India, depending on the incoming waves of newcomers.
Although this snack had numerous variations depending on where it was used, no one shaped samosas quite like those in India. Pepper, ginger, and coriander were among the spices that were combined to suit local tastes. Also, a lot of the meat was replaced with vegetables.
That is the fascinating aspect of the Samosas evolution: despite having been a part of numerous cultures, it is still one of the most influential snacks today.
The origin of Pakoras
Gujarat, the most western state of India, is where Pakoras are believed to have started. A typical Gujarati teatime food is Pakoras. In Punjabi households, rain showers frequently justify tea and Pakoras. In South India, a variation made of potatoes called bondas is also well-liked.
Such dishes are known as bajji rather than Pakoras in the southern states of India. They resemble Mauritius bhajas a lot.
In addition to producing appetizers and snacks, Pakoras can make main entrees like Pakoras curry, also known as kadhi. In this recipe, Pakoras are cooked in a rich sauce made of chickpea flour and sour yogurt.
Types of Samosa
People love samosa and there are different ways in which samosas can be made, here you will find out the most eaten types of samosa:
Samosa Aloo
This is one of the most popular samosas you may eat because it is widely accessible nationwide. The filling is to die for in the chilly winters, and the crust is crunchy and flaky. This Samosa has a heated potato filling which is why it is called Aloo ka samosa and is best savored with a cup of hot tea.
Qeema Samosa
This Qeema Samosa is a variety that is specifically mentioned during Ramadan. The filling comprises minced mutton and a mixture of spices and yogurt. The flour paste used to seal this Samosa is then allowed to dry. This Samosa is cooked and eaten with pudina chutney after the sealing has been thoroughly dried.
Chipotle Cheese Samosa
Cheese, cooked potatoes, and green chilies are combined to make this Samosa. This Samosa is incredibly delicious and is baked to perfection for 15 minutes at 200 degrees C. However, the fried version of this Samosa is also the greatest.
Types of Pakoras
Here is the list of the most wanted types of Pakoras:
Fried onions
One of the most well-known Indian snacks ever is onion/pyaaz pakora, sometimes referred to as kandha bhajiya. You now have the opportunity to eat a plateful if you truly crave it.
Mirchi phreaks
You enjoy spicy and sweet food. For your rainy-day cravings, try this tangy pakora variant.
Potato Pakoras
The comfort food known as aloo pakora is a well-known Indian snack typically included in restaurant mix-vegetable Pakoras.